Shortbread Cookies with Icing
by Editorial Staff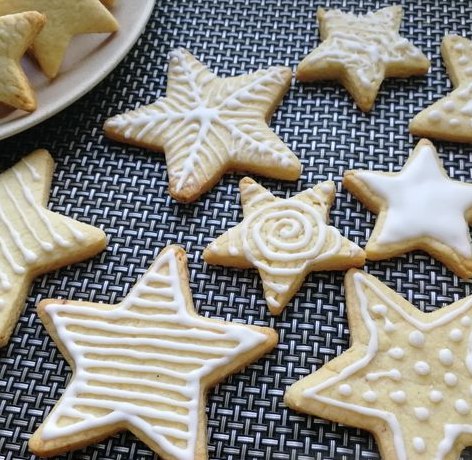 Delicious and fragrant shortbread cookies can be painted with egg white icing with powdered sugar and decorated as a decoration for a Christmas tree or a New Year's gift.
Ingredients
For the dough:
Butter (room temperature) – 100 g
Yolk – 1 pc.
Sugar – 50 g
Flour – 175 g
Baking powder – 0.5 teaspoon
Vanillin – 1 pinch
Salt – 1 pinch
*
For glaze:
Egg white – 15 g (0.5 pcs.)
Powdered sugar – 100 g
Lemon juice – 1 teaspoon
Instructions
We carefully process the egg – wash it and keep it for 10 minutes in a strong soda solution (a tablespoon of soda in a glass of water). This is necessary because raw protein is used for the glaze. Separate the egg yolk from the white. The oil should be at room temperature – we take it out of the refrigerator in advance. Sift flour (a little more than a glass with a capacity of 250 ml) with baking powder and mix with salt.
Beat butter with sugar and vanilla. Add the yolk and beat again. While kneading the egg-butter mass, gradually add flour with baking powder and salt to it. We knead the dough. We put it in a bag and send it to the refrigerator for 2 hours.

Roll out the dough into a layer 0.5 cm thick and cut out the cookies using curly cuttings. The upper lip of the cookie can be pierced (so that you can hang the finished cookie like a Christmas tree decoration. I did not do that).
Carefully transfer the figures to a baking sheet covered with parchment. We bake cookies at 180 degrees for 10-15 minutes. We take the cookies out of the oven and let them cool.

Preparing the icing for the cookies. You need only 15 grams of egg white – that's about a tablespoon. Mix the powdered sugar with the egg white. Add lemon juice and mix the glaze again very thoroughly. Transfer the icing to a pastry bag.
With the help of glaze, we apply patterns to the cookies. You can connect your children to this process.
Vanilla shortbread cookies with icing are ready!
Enjoy your meal!
Also Like
Comments for "Shortbread Cookies with Icing"