Shortbread Cookies "Champignons"
by Editorial Staff
The fastest "Champignon" shortbread cookies! Soft and crumbly! Ready to bake such cookies in the form of mushrooms even every day! Cook and delight your loved ones.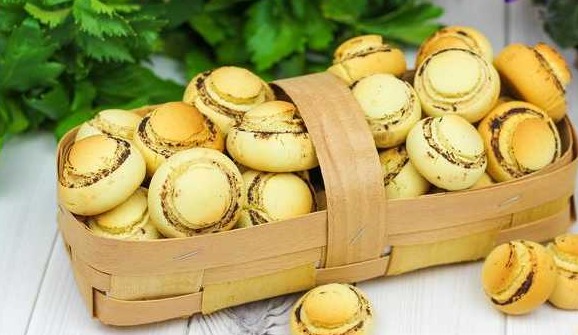 Ingredients
Butter (82.5%) – 180 g
Eggs – 2 pcs.
Powdered sugar – 150 g
Flour – 380-400 g (about 3 glasses of 200 ml)
Corn starch – 120 g
Baking dough – 10 g
Salt – 1/3 teaspoon
Vanilla sugar – 1 teaspoon
Cocoa powder – 1 tbsp
Directions
Beat the softened butter with a mixer for 1 minute. Then add vanilla sugar and icing sugar.
Add eggs. Beat until smooth.

Add starch, baking powder and salt to the resulting mass. Mix with a spatula.
Add flour in parts. We knead the dough.
The dough is smooth, soft and very pleasant.
We turn on the oven and heat up to 180 ° C. Take some dough, roll up a small ball (about the size of a walnut), put it on a baking sheet lined with parchment.

Dip the neck of the bottle in cocoa powder, slightly press it into the dough ball in the center, forming a mushroom leg.
We bake shortbread cookies in a preheated oven at 180 ° C for 15 minutes. Put the finished "mushroom" cookies on the wire rack and let it cool.
Bon Appetit! Enjoy cooking!
Also Like
Comments for "Shortbread Cookies "Champignons""