Marshmallows at Home
by Editorial Staff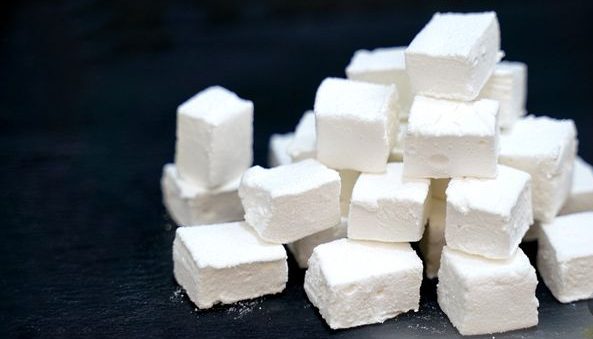 Airy and springy marshmallows from the available ingredients. The recipe is very simple, but you get cool sweets at home.
Ingredients
Instant gelatin – 12 g
Water – 60 ml for gelatin + 60 ml for sugar syrup
Sugar – 200 g
Corn syrup – 60 ml
Vanilla sugar – 20 g
or vanillin – on the tip of a knife
or vanilla essence – to taste
Salt – 1/4 teaspoon
Directions
Pour gelatin with 60 ml of room temperature water and leave to swell for 15 minutes. Then heat the gelatin until hot, but do not let it boil. I heat the gelatin in a water bath.
While the gelatin swells, boil the sugar syrup. To do this, pour 60 ml of water into a saucepan, add sugar. Cook over medium heat, without stirring (!), Until sugar is completely dissolved and bubbles appear. It takes 12-15 minutes. If you have a thermo, then the temperature of the sugar syrup should be 115 degrees. If you don't have a thermo, put some syrup in cold water: if you can form a soft plastic ball with your fingers, the syrup is ready.
Pour hot gelatin into a container, add salt and vanilla sugar. (You can add any other flavoring, lemon juice, or color.)
Beat with a mixer on a slow speed for 1 minute, until the vanilla sugar and salt are dissolved.
Add hot sugar syrup in a thin stream. Increase mixer speed to maximum and beat for 8-10 minutes until a fluffy white mass is obtained.
Line a square or rectangular shape with cling film (my shape size is 16×22 cm) and grease with refined vegetable oil so that the marshmallows do not stick. Grease the spatula with vegetable oil and put the marshmallows in the prepared form. You need to act very quickly until the mass thickens. Level the surface by wetting your hands with cold water. Leave the marshmallows at room temperature to stabilize for 2-3 hours.
Mix the powdered sugar with starch and sift through a sieve.
Sprinkle the work surface through a sieve with the resulting mixture. Put a layer of marshmallows there and roll on all sides.
Moisten the knife with water, grease with vegetable oil, or sprinkle with starch and powdered sugar so that it does not stick to the marshmallows. Cut the marshmallows into cubes and roll well in a mixture of cornstarch and powdered sugar. Remove starch and icing sugar with a sieve.
Enjoy your meal!
Also Like
Comments for "Marshmallows at Home"