Home Halva
by Editorial Staff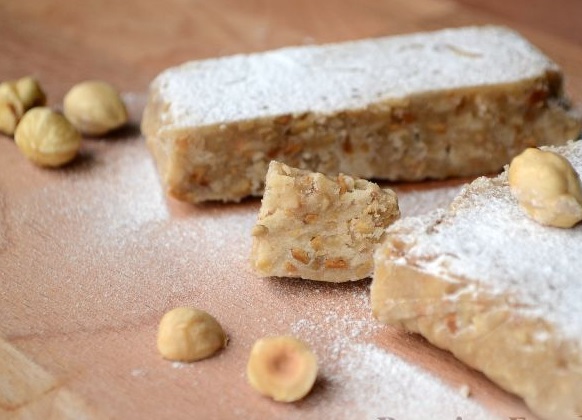 Homemade halva is prepared quite simply, it consists of natural ingredients, it is very tasty and nutritious. It can be given to children without fear of chemical additives, unnecessary ingredients, or artificial colors.
Ingredients
Hazelnuts (hazelnuts) peeled – 50 g
Peeled sunflower seeds – 50 g
Sugar – 100 g
Wheat flour – 80 g
Unrefined sunflower oil – 40 ml
Water – 40 ml
Powdered sugar – for sprinkling halva
Directions
Prepare all the ingredients for making homemade halva.

Dry the nuts and sunflower seeds in a dry frying pan so that their taste is brighter in the halva.
Cool and transfer to a blender.
Grind in a blender until you want it.
In a dry skillet, fry the sifted flour until slightly golden brown.
Combine nuts and flour in a deep bowl.
Pour sugar with water and boil, the sugar should completely dissolve.
When this happens, pour in the sunflower oil and boil again. Remove from heat and cool to 50 degrees.
Pour in dry ingredients and stir.
Line the mold with cling film and line the contents of the bowl. Tamp and flatten.
Cover the surface with foil and put homemade halva in the refrigerator for 1-2 hours.
After this time, the halva will harden and it will be possible to cut it.

Sprinkle with powdered sugar, cut into portions and serve a healthy and tasty dessert – homemade seed and hazelnut halva – for children and adults.
Enjoy your meal!
Also Like
Comments for "Home Halva"