Peanut Halva
by Editorial Staff
I offer a home version of peanut halva. It differs from the factory one, but it is still unknown in which direction. Halva turns out to be plastic, aromatic, and very tasty – and an excellent dessert for children and adults.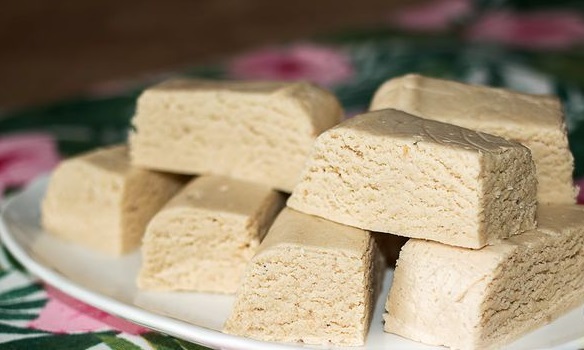 Ingredients
Peanuts – 250 g
Sugar – 100 g
Honey – 25 g
Aquafaba or egg white – 20 g
Water – 50 ml
Directions
Dry the peanuts in the oven at 160 ° C for 10-12 minutes.

Peel and grind dried nuts into a paste using a blender (chopper), coffee grinder, or meat grinder. If the mass does not want to turn into a paste, add 1 teaspoon of vegetable oil.
Aquafaba is the liquid leftover from boiling legumes or from canned beans, chickpeas, or peas. It is better to use the liquid from chickpeas or from white beans (I took liquid from chickpeas).
Beat egg white until firm foam (you can add 0.5 teaspoons of sugar, when the fluffy foam is beaten, for stability).
Mix sugar, honey, and water in a saucepan and put on low heat. After dissolving sugar and honey, cook the syrup to 120 ° C. You can check the readiness of the syrup without a thermo as follows: a trickle of syrup should not immediately pour out of the spoon, but form a thread.
Pour hot syrup into whipped aquafaba in a thin stream, whisking the mass. After adding the syrup, beat for 3 minutes.
Mix the resulting mass with peanut. Stir in smooth movements from bottom to top.
Cover a suitable container with cling film or parchment. Put the mass there, cover with foil, and put it in a cool place.
When the peanut halva is tamped down a little, transfer it to a plate and cover it with a napkin. Dry peanut halva at room temperature or in a cool place for 1-2 days to the desired density.
Bon Appetit!
Also Like
Comments for "Peanut Halva"