Dessert from Condensed Milk and Jelly "Gems"
by Editorial Staff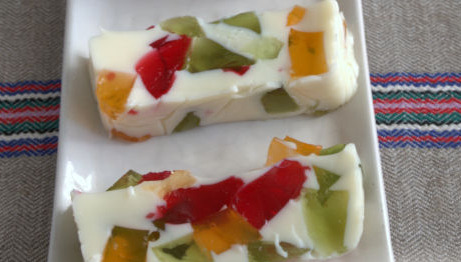 Delicious, colorful condensed milk jelly dessert will decorate any holiday, give a great mood on a weekend, and will delight children. The recipe for condensed milk jelly is simple – a minimum of components and a simple cooking process.
Cook: 6 hour
Servings: 6
Ingredients
Condensed milk – 1 can (about 300 g)
Gelatin – 25 g
Fruit jelly, multi-colored – 3 packs (90 g each)
Directions
Dissolve each bag of fruit jelly in 300 ml of boiling water. We try to thoroughly dissolve all the powder. We send the multi-colored jelly to the refrigerator for 2-4 hours.
Pour gelatin with 150 ml of cold water and leave for 15-25 minutes.
We remove the frozen multi-colored jelly from the forms.
Cut the fruit jelly into small pieces and mix gently.

We heat the gelatin until the mass acquires a homogeneous structure (do not boil!). Pour the dissolved gelatin into condensed milk (not cold!).
Stir until smooth.
Fill the prepared pieces of multi-colored jelly with condensed milk with gelatin. We use a silicone mold for dessert or cover a simple mold with cling film so that you can easily remove the jelly after hardening.

Leave in the refrigerator for 1-2 hours. After solidification, we remove the jelly from the condensed milk from the mold.
Cut the multi-colored condensed milk jelly dessert into pieces and serve. Store only in the refrigerator.
Bon Appetit!
Also Like
Comments for "Dessert from Condensed Milk and Jelly "Gems""