Sweets from Condensed Milk and Cocoa
by Editorial Staff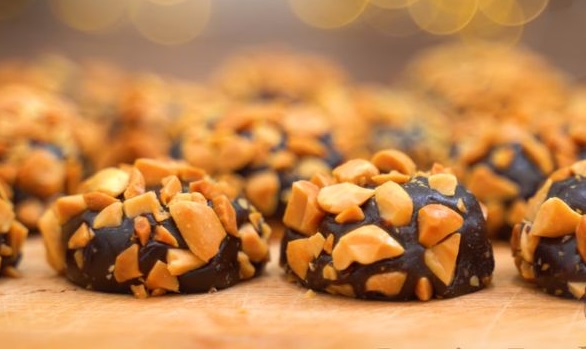 Delicious homemade candy with just two basic ingredients and can be made in just 15 minutes. The result is delicious sticky chocolate toffee!
Ingredients
Condensed milk – 380 g
Cocoa powder – 2 tbsp (to taste)
Salted peanuts (or cocoa powder / coconut flakes / waffle chips) – to taste
Butter – for lubricating hands
Directions
Mix cocoa powder with condensed milk. The amount of cocoa can be adjusted to taste.

Heat over moderate heat for 10-15 minutes, stirring constantly, evaporating the mixture until thick. I am indicating an approximate time, better focus on the mass, it should become thick and viscous.
Put the mass on a dish lined with cling film. Let it cool slightly.
Coarsely chop the peanuts with a knife to roll the sweets.
Grease your hands with butter, as the mass is sticky. Take a small piece of mass and roll a small ball. Form the rest of the balls in the same way. I got 25 pieces.

Dip the resulting balls in chopped peanuts.
(Can be rolled in cocoa, coconut flakes, waffle crumbs, or other nuts of your choice. I used salted peanuts, it turned out to be a very tasty and balanced combination!)
Sweets from condensed milk and cocoa are ready.
The result is such a sticky candy.
Enjoy your meal!
Also Like
Comments for "Sweets from Condensed Milk and Cocoa"