Curd Cheesecake
by Editorial Staff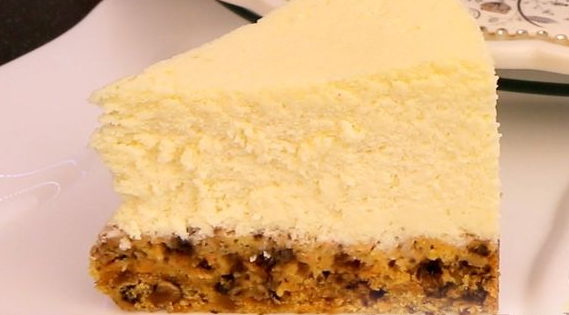 Today I propose to cook the most delicate, light, airy curd cheesecake on a spicy, aromatic carrot base. The combination of moist carrot crust with nuts and a curd layer with citrus notes is just perfect! Cheesecake recipe based on cottage cheese, without cream cheese and heavy cream. Simple and delicious!
Cook: 7 hours
Servings: 8
Ingredients
For carrot crust:
Carrots (grated on a fine grater and squeezed out of juice) – 110-120 g
Walnuts (fried, lightly chopped) – 50 g
Orange (zest) – 1 pc.
Egg – 1 pc.
Vegetable oil – 35 g
Sugar – 50 g
Flour – 80 g
Ground spices (a mixture of cinnamon, cloves, nutmeg, and cardamom) – ½ teaspoon.
Salt – 1 g (1 pinch)
Soda – ¼ teaspoon.
Baking powder – ¼ teaspoon.
For the curd layer:
Cottage cheese (I have pasty, 5% fat) – 400 g
Egg white – 2 pcs.
Yolks – 3 pcs.
Sour cream 20% fat – 50 g
Milk 2.5% – 160 g
Sugar – 90 g
Corn starch – 30 g
Orange juice – 20 g
Salt – 1 pinch
Directions
Let's start with the carrot crust.
All liquid ingredients must be at room temperature!
I combine the sifted flour with baking powder, soda, salt, and ground spices. I stir and set aside for now.
I remove the zest from the orange with a fine grater (only the brightest part).
I combine sugar with orange zest and grind.
Then add the egg and beat well for 2-3 minutes.
The mass will turn white and increase slightly.
I add vegetable oil and continue to beat.
Then I add dry ingredients and just mix everything.
And at the very end – carrots, grated on a fine grater, without juice. And walnuts – roasted and chopped. I mix everything gently.
I bake it in a split form-ring with a diameter of 19 cm. I covered the bottom with foil, greased the sides with vegetable oil.
I spread the dough, level it.
I bake in an oven preheated to 170 degrees for 30 minutes, until a dry toothpick.
Take it out of the mold and let it cool completely on a wire rack.
Products for the curd layer.
All liquid ingredients should be at room temperature.
Beat the whites with a pinch of salt and half the sugar (45 g) white to "medium" peaks. I put it aside for now.
Cottage cheese (pasty, 5%) can be rubbed through a sieve for a more uniform consistency or punch with an immersion blender. To make it easier to interrupt, you can add a little milk from the total.
The curd mass should be homogeneous, without lumps. I put it aside for now.
Beat the yolks with the remaining sugar until they are white and fluffy. I add sour cream (20% fat) and milk (2.5% fat). I mix everything.
Followed by starch, orange juice, and mix again. Or whisk at minimum speed. (Vanilla can be added.)
I add cottage cheese there in parts.
And at the very end, with neat movements, so as not to disturb the splendor, whipped proteins.
The mass will turn out to be fluffy, light, and quite liquid.
At the cooled cake, I trim the top by cutting off the "cap".
I collect cheesecake in a detachable form-ring (diameter 18.5-19 cm). The bottom was covered with foil.
I put the cake in the form with the cut-up.

Pour the curd mass on top. You can hit the shape several times on the table so that the largest air bubbles come out.
I'm baking curd cheesecake in the oven with steam! To do this, I put a container with boiling water at the bottom of the oven.
I send the cheesecake to the oven, preheated to 150 degrees, for 1 hour. Make sure that the cheesecake does not rise too much, otherwise reduce the temperature.
After the time has passed, I leave the cheesecake in the oven with the door ajar until it cools completely.
Then I cover the curd cheesecake with a film and put it in the refrigerator – for 3-4 hours, but better at night!
Removing the cheesecake from the mold.

I decorate the curd cheesecake on a carrot-nut base as desired.
For the autumn season, with a cup of a hot tea or aromatic coffee, a slice of such a cheesecake is bliss! 🙂
Also Like
Comments for "Curd Cheesecake"