Unbaked Curd Cheesecake Recipe
by Editorial Staff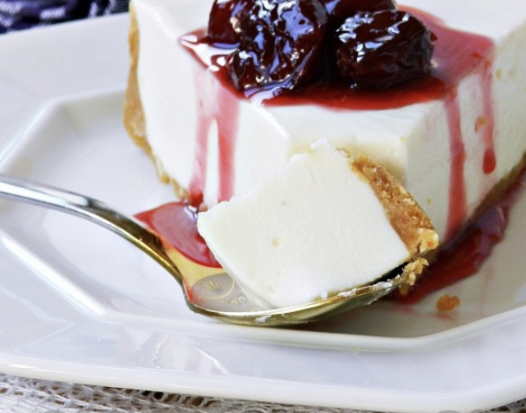 Cheesecake is an excellent dessert for homemade tea drinking or a festive table. There are a lot of cheesecake recipes. Delicious and delicate curd cheesecake can be prepared without baking. Since I did not use any fruit in the cheesecake itself, I served it with a fragrant cherry sauce.
Ingredients
500 g of cottage cheese;
1 can of condensed milk;
10 g of instant gelatin;
2/3 cup water (or milk)
250 g shortbread cookies;
100 g butter;
berry sauce for serving.
Detachable baking dish with a diameter of 21 cm.
Directions
Grind the cookies into crumbs using a blender.
Melt the butter, mix with the cookies, grind until smooth.
Cover the bottom of the baking dish with paper. Layout the cheesecake base, tamping the cookie crumbs tightly along the bottom and sides of the mold.
Dissolve gelatin in 2/3 cup of water, leave for 10 minutes. Then put a cup of gelatin in hot water and, stirring constantly, completely dissolve the gelatin.
Mix cottage cheese with condensed milk.
Pour gelatin into the resulting curd mass and beat everything thoroughly together.
Put the curd mass on a biscuit base, flatten. Cover the cheesecake mold with cling film and refrigerate for 3 hours to set.
Delicious and delicate curd cheesecake, cooked without baking, turns out to be tender and very tasty. Berry sauce will be a great addition to this wonderful dessert.
Enjoy your meal!
Also Like
Comments for "Unbaked Curd Cheesecake Recipe"