Unbaked Cheesecake with Strawberries
by Editorial Staff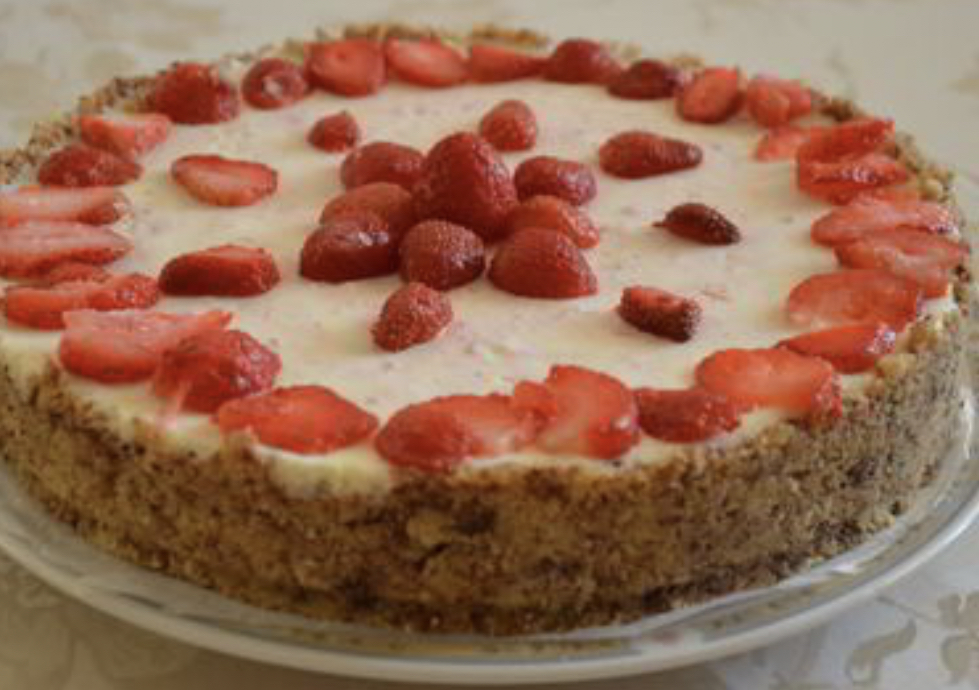 Delicious and tender homemade cheesecake. It is prepared as simply as possible and from readily available products that can almost always be found at home.
Ingredients
300 g cookies (I used cookies "for coffee")
100-150 g butter
1 tablespoon cocoa
500 g Mascarpone cream cheese (I used Omichka cheese)
200 ml cream 33-35% (I used 20%)
100 g strawberries
150 g sugar
20 g gelatin
Directions
Pour gelatin with 100 ml of cold boiled water in advance and refrigerate for 1 hour.
Prepare the base for the cheesecake. Grind the cookies in a blender.
Melt butter.
Combine cookies and butter and add some cocoa for a beautiful color.
Prepare a mold, dia 25 cm. Line the bottom with baking paper to make it easier to place the cheesecake on a plate.
Put the cookie crumbs into a mold, tamp, make sides. Remove the form with the base in the refrigerator so that the base hardens.
Put the gelatin in a saucepan on the stove and bring to a boil, but do not boil, remove from the stove.
Beat the cream with sugar until fluffy.
Add cheese, mix well, pour in cooled gelatin, mix again.
Divide the filling into 2 parts. Pour half into the prepared base, add chopped strawberries to the other half, beat with a mixer. Transfer to the form, flatten.
Put the cheesecake in the refrigerator until it solidifies (for 3-4 hours). You can garnish the finished cheesecake with strawberries.
Enjoy your meal!
Also Like
Comments for "Unbaked Cheesecake with Strawberries"