Cheesecake with Strawberries
by Editorial Staff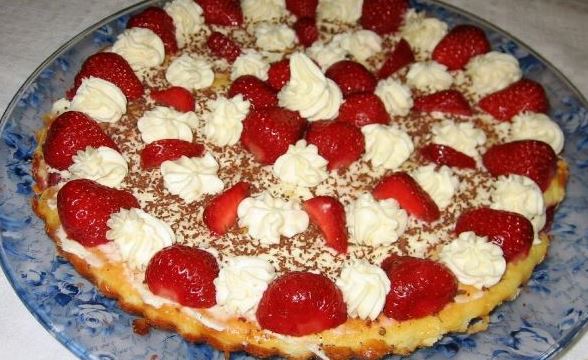 A light and tasty summer meal made from available products. Cheesecake in the oven (curd casserole) with strawberries is quick and easy to prepare.
Cook: 35 minutes
Servings: 8
Ingredients
Cottage cheese – 500 g
Semolina – 3 tbsp
Eggs – 4 pcs.
Sugar – 1 glass (to taste, you can take less)
Fresh strawberries – 10-12 pcs.
Baking powder – 1 tbsp
Oil (olive oil can be used) – for lubricating the mold
For decoration:
Thick cream (whipped) – 300 g
Powdered sugar – 100 g
Fresh strawberries – 12 pcs.
Chocolate – slice
Directions
Separate the egg whites from the yolks. Pass the cottage cheese through a meat grinder. Add sugar, semolina, baking powder, and yolks to the curd. Mix everything into a homogeneous mass.

Beat the whites until stiff and gently stir into the curd mass.
Cut the strawberries into quarters and mix them with the curd mass.

Preheat the oven. Grease a baking dish with oil. Put the curd-strawberry mass in a mold and smooth with a wet spatula. Bake for 1 hour in an oven preheated to 180 degrees. (The cheesecake will first rise and then settle.)
Let the cheesecake cool in the form, then transfer it to a dish. You may have to walk around the edge with a knife.
Decorate the cooled cheesecake with whipped cream, strawberries, grated chocolate.
Bon Appetit!
Also Like
Comments for "Cheesecake with Strawberries"