Curd Cheesecake with Strawberries
by Editorial Staff
Homemade curd cheesecake with strawberries. The base for the dessert is baked from shortcrust pastry, the filling is made from cottage cheese, and the cheesecake with strawberries is glazed with apricot jam.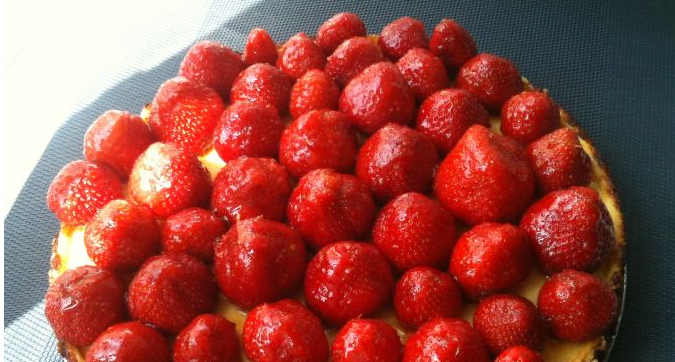 Cook: 3 hours
Servings: 8
Ingredients
For the test:
Flour – 250 g
Butter – 125 g
Sugar – 100 g
Eggs – 1 pc.
For filling:
Cottage cheese – 150 g
Cream 33-35% – 250 ml
Sugar – 100 g
Lemon (zest) – 1 pc.
Starch – 1 tbsp
Eggs – 4 pcs.
For decoration:
Strawberry – 500 g
Apricot jam – 3-5 tbsp
Directions
Prepare foods for the strawberry curd cheesecake.
Grind the butter with sugar. Add the egg. Mix.

Combine flour, sugar, egg, butter and knead the dough. Place the cheesecake shortbread dough in the refrigerator for 1 hour.
Filling: beat the cottage cheese, sugar, lemon zest.
Introduce starch mixed with eggs.
Whip the cream.
At the end add the whipped cream and beat well again.
Turn on the oven. Grease a mold with a diameter of 26-28 cm and cover with parchment.
Roll out the dough and place it in a greased and parchment-lined form. Tamp down the edges gently.
Put the filling on the shortbread dough.
Bake at 180 ° C for 1 hour.
Wash the strawberries, remove the tails.
After cooling, line the surface of the cake with fresh strawberries.

Boil the jam.
Glaze the curd cheesecake with strawberries with boiling apricot jam (grease the surface with jam with a silicone brush).
Curd cheesecake with strawberries is ready. Bon Appetit!
Also Like
Comments for "Curd Cheesecake with Strawberries"