Cheesecake with Strawberries "Strawberry ICE"
by Editorial Staff
One morning I wanted something fresh and light, with fresh strawberries. And here's what I came up with – a recipe for cheesecake with strawberries, or curd-strawberry jelly cake.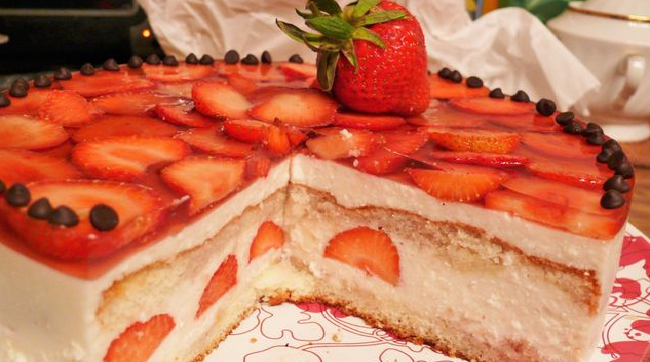 Cook: 1 hour
Servings: 12
Ingredients
For a biscuit:
Eggs – 3 pcs.
Sugar – 1 glass (200 g)
Flour – 1 cup (150 g)
Baking powder – 1/4 teaspoon.
Vanilla sugar – 1 sachet
Strawberry juice (for biscuit impregnation) – 1 glass
For the curd layer:
Vanilla curd snacks (regular, without chocolate glaze) – 500 g
Cream 20% – 200 g
Sugar – to taste (I took 200 g)
Vanilla sugar – 1 sachet
Gelatin – 30-40 g (I took 40)
Strawberry – 100 g
For jelly (top layer):
Strawberry juice – 2 cups
Gelatin – 40 g
Sugar to taste
Strawberry – 150 g
For decoration (optional):
Directions
To make a biscuit, beat eggs with sugar and vanilla sugar.
Add flour and baking powder, beat thoroughly, and bake in a split form. I covered it with foil on top for 20 minutes and baked it for 30 minutes.
Take out the biscuit, let it cool and cut into 2-3 cakes. Put the bottom cake in a split form and pour over the strawberry juice.
To prepare the curd layer of the cake, soak the gelatin in 1 glass of cold water until it swells.
Beat the curd snacks with cream, sugar, and vanilla sugar until smooth.
Heat gelatin until dissolved (do not boil), remove from heat, and let cool.
Then add the gelatin slowly to the curd mass, beat thoroughly.
Immediately start pouring the curd mass into the first cake.
Place strawberry halves on this layer.
Then cover with the next crust. Pour the remaining curd mass into the top cake (thin layer 5 mm).
Let it freeze in the refrigerator for 30 minutes.
While the biscuit-curd jelly cake is solidifying, prepare the remaining strawberries – beautifully cut for stacking with the top layer.

For the top layer of jelly, soak the gelatin in the strawberry juice and add the sugar. Heat everything to a boil (the color will change – it will become burgundy, like strawberry jam). Cool the jelly.
Take the cake out of the refrigerator put the strawberries on top, and slowly (with a tablespoon) pour the jelly over the strawberries evenly.
Allow to freeze (at least an hour) and decorate the strawberry-curd jelly cake with chocolate drops.
I highly recommend it! This biscuit-curd strawberry cake is tender, not cloying, and very light. The strawberry flavor is amazing! Cheesecake with strawberries flies away with a bang!
Also Like
Comments for "Cheesecake with Strawberries "Strawberry ICE""