Unbaked Peach Cheesecake
by Editorial Staff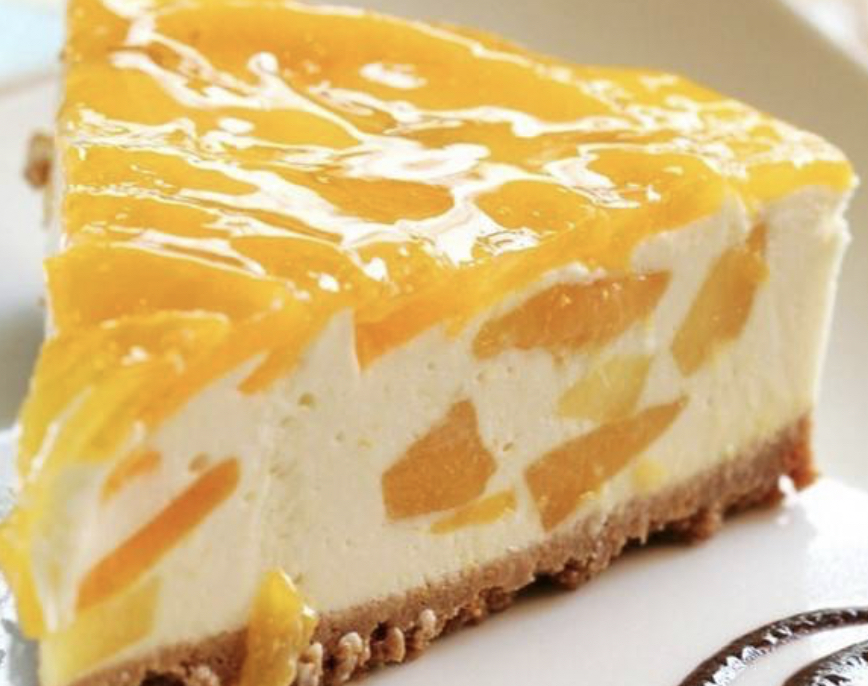 Delicious homemade cheesecake is prepared based on curd mass and peaches. It turns out to be very soft, delicate, and pleasant to the taste. Surprise your guests with a cool no-bake dessert!
Ingredients
Cookies 200 gram
Butter 100 Grams
Curd 400 Grams
Cream 200 Milliliters
Vanillin To taste
Sugar 100 gram
Gelatin 30 Gram
Canned peaches 2 Pieces
banks
Directions
Dissolve 15 g of gelatin with water and leave to swell for 30 minutes. Soak the remaining gelatin in the peach syrup (from one can).
Grind the cookies into crumbs and mix with melted butter. Tamp the mass into a mold and place it in the refrigerator. Heat the gelatin swollen from the water on the stove, stirring, and then cool. Beat the cream, sugar, and a pinch of vanillin until the sugar is completely dissolved. Then add cottage cheese, put in warm gelatin, and stir. Fill the cake mold with the resulting mass and put it in the refrigerator for another couple of hours, until it solidifies completely.
Heat the peach syrup with gelatin on the stove, stirring, and then cool. Cut the peaches into slices and put them on the cheesecake.
Pour the frozen cheesecake on top with gelatin syrup and send it to the refrigerator overnight.
Enjoy your meal!
Also Like
Comments for "Unbaked Peach Cheesecake"