Unbaked Caramel Cheesecake
by Editorial Staff
There are many recipes for making cheesecakes. Chocolate, coffee, vanilla, berry – they all come out very tasty. Such a dessert has not only an attractive appearance, excellent taste but also healthy because it contains a large amount of cheese.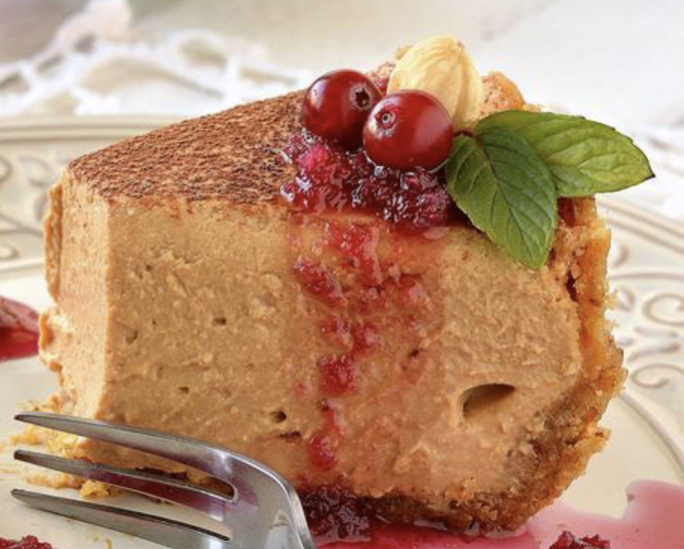 I suggest making a cheesecake without baking. This cheesecake turns out to be very tender, with a rich caramel taste.
Ingredients
Boiled condensed milk 300 g
Water 5 tbsp
Gelatin 1.5 tbsp
Butter 160 g
Walnuts 40 g
Shortbread cookies 250 g
Cottage cheese 750 g
Directions
To make a caramel cheesecake, we need cottage cheese, boiled condensed milk, gelatin, water, nuts, cookies, butter.
Combine broken cookies and nuts in a food processor bowl (metal knife attachment).
Grind everything until very fine crumbs are formed.
Combine crumbs and melted butter.
Cover the bottom of the mold with a diameter of 15 cm with parchment. Form the bottom and walls of the future cheesecake from the mass, pressing it well against the walls of the mold. Put the mold in the refrigerator for 30-40 minutes.
Pour gelatin with cold water and leave to swell for 30 minutes or according to the instructions on the package.
Combine cottage cheese and condensed milk in the bowl of a food processor (metal knife attachment).
Grind until an homogeneous mass is formed.
Heat gelatin in a microwave oven or a water bath until dissolved. In a slightly cooled gelatinous mass, mix 2 tablespoons of curd mass.
After that, mix the gelatinous-curd mass into the curd-caramel mass and put the formed mass into the base of cookies. Put the cheesecake in the refrigerator for 3-4 hours.
Remove the cheesecake from the mold. The caramel cheesecake is ready.
Enjoy your meal!
Also Like
Comments for "Unbaked Caramel Cheesecake"