Curd Cheesecake with Marshmallows (no Baked)
by Editorial Staff
Curd cheesecake without baking and … without the gelatin! Marshmallows will act as a thickener.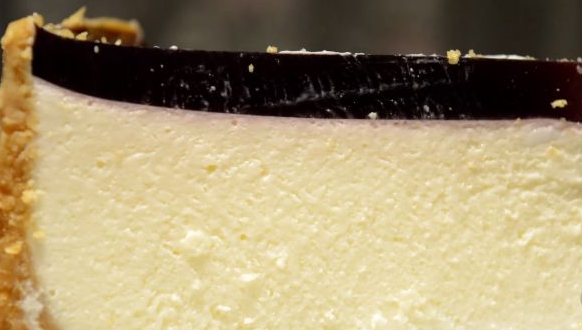 Ingredients
For the basics:
Shortbread cookies – 350 g
Butter – 120 g
Sour cream – 30 g
For curd cream:
Cottage cheese – 600 g
Sour cream – 300 g
Marshmallow – 400 g
Lemon juice – 1 tbsp
or apple cider vinegar – 1 teaspoon
For jelly:
Blueberry jam – 2 tbsp
Water – 300 ml
Instant gelatin – 15 g
Sugar to taste
Citric acid – to taste
Directions
For the base of the curd cheesecake, we will use shortbread cookies. We need 350 g of baked milk shortbread cookies. It needs to be crushed with a blender or rolling pin into small crumbs.

We will use 120 g of butter as a "binder" for the cookies. It needs to be melted in the microwave or in a water bath and mixed with crumbs.
Add 30 g of sour cream there – that's about 2 tbsp. Mix everything well, first with a spoon, and then with your hands. The mass should gather well in a com.
For the cheesecake, we need a split form – we can't do without it. The dia of my mold is 23 cm. I covered it with parchment paper, although this is not necessary.
We spread the cookies and butter in the mold, form the bottom and sides, i.e. make the base for the cheesecake. You should get an impromptu "bowl".
We use cottage cheese, sour cream, and marshmallows as a filler. Beat the cottage cheese and sour cream in a blender until a homogeneous pasty mass.

Marshmallows need to be warmed up. You can use either a water bath or a microwave. The marshmallow should double in size and become soft and warm. I used the microwave. Marshmallows were heated for 2.5 minutes at a power of 700 watts.
Add the curd mass to the marshmallows and mix. You will also need 1 tablespoon. a spoon of lemon juice, but I didn't have it, and I added 1 teaspoon of apple cider vinegar. Mix well again, you can even beat with a mixer.
Pour the resulting curd cream into the prepared form.
Place the curd cheesecake in the refrigerator for 3-4 hours.
Since my sides are higher than the curd cream, I decided to fill the free space with jelly and thus decorate the cake.
I made the jelly myself – from blueberry jam, you can use ready-made jelly in bags, which is sold in stores.
In order to make jelly on our own, we need gelatin and some kind of base. Any fruit juice without pulp, fruit tea, or compote is suitable as a base. I used 2 tbsp of blueberry jam and 250 g of water – boiled everything well, added sugar and citric acid to taste. Since I used jam, and still there was extra cake left, I strained everything through cheesecloth (you can use a strainer).
Pour a bag of gelatin (15 g) into a bowl and pour 50 ml of cold boiled water. Let it stand for about 5 minutes for the gelatin to swell.
We send the swollen gelatin into a hot base for jelly, the temperature of which should be 80-90 degrees, and mix well. Cool to room temperature.
When the top layer of the curd cream has already slightly grabbed, fill in the cooled jelly. We send it to the refrigerator for solidification for 1-1.5 hours.
When the curd cheesecake is ready without baking, cut off the protruding sides with a regular knife or pizza knife.
In order to remove the cheesecake from the mold, you need to dip it in hot water for a few seconds – then the base of the cookies will slightly melt and separate well from the mold.
Cheesecake with cottage cheese and marshmallows is ready.
Bon Appetit!
Also Like
Comments for "Curd Cheesecake with Marshmallows (no Baked)"