Delicate Curd Cheesecake without Baking
by Editorial Staff
The no-bake curd cheesecake recipe is very simple, which is especially attractive. Cheesecake is a cake made from soft cream cheese or cottage cheese. The prepared filling is poured onto a biscuit and butter cake. Before serving, the cheesecake must certainly stand in the refrigerator for several hours. The result is an incredibly delicate, airy dessert that can outshine any rival.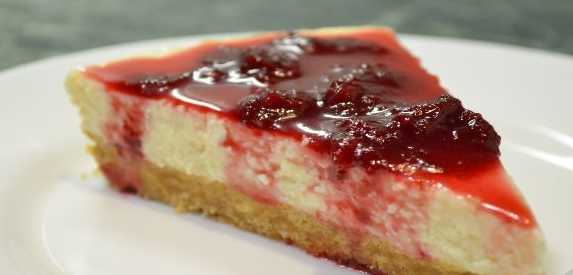 Servings: 8
Ingredients
Shortbread cookies – 250 g
Butter – 100 g
Cottage cheese – 500 g
Condensed milk – 1 can
Gelatin – 10 g
Milk or water – 2/3 cup
Berry sauce (or jam) for serving – to taste
Directions
Prepare products for curd cheesecake.
Grind the cookies into crumbs using a blender.

Melt the butter. Add melted butter to the liver.
Mix cookie crumbs with butter until smooth.
On the bottom of a detachable baking dish, previously covered with parchment paper, put the mass of cookies with butter, tamp the base for the cheesecake tightly.
Then place the mold with the base for the cheesecake in the refrigerator.
Dissolve the gelatin in 2/3 cup milk (or water) and leave for 10 minutes.
Put a cup of gelatin in hot water, stirring constantly until the gelatin is completely dissolved.
Mix cottage cheese with condensed milk and dissolved gelatin.

Beat thoroughly with a mixer until smooth.
Remove the cheesecake base from the refrigerator, put the prepared curd mass on it.
Cover the form with curd cheesecake with cling film and place the cheesecake without baking in the refrigerator for 3 hours to set.
After that, gently release the cheesecake from the mold.
When serving, pour the curd cheesecake without baking with berry sauce or jam.
Bon Appetit!
Also Like
Comments for "Delicate Curd Cheesecake without Baking"