Curd Cheesecake with Lemon Zest
by Editorial Staff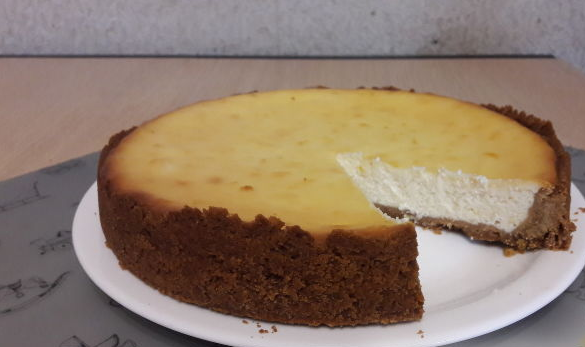 The recipe for a famous dessert – Russian-style cheesecake with curd filling. Very delicate and airy filling. Easy to prepare and delicious. Try it. The curd taste is not obvious and this is a great option for cooking dishes with curd.
Servings: 8
Ingredients
For the basics:
Biscuits "Jubilee" – 300 g
Butter – 150 g
For filling:
Sugar – 150 g
Thick sour cream – 150 g
Cottage cheese – 500 g
Vanillin – 1 sachet
Lemon (zest) – 1 pc.
Eggs – 2 pcs.
Directions
Preparing the ingredients for homemade lemon curd cheesecake. Cut the butter into pieces and melt in the microwave.
How to make a curd cheesecake at home:
We break the cookies with our hands into small pieces and send them to the bowl
Grind the cookies into crumbs.

Mix the crumb with melted butter and knead the "dough".
We layout the bottom and sides of the form with a sand base. We send it to the oven, preheated to 190 degrees, for 10 minutes.
Let's start preparing the filling. We turn the curd into a homogeneous mass using a submersible blender (I do not recommend using a mixer!).
Add powdered sugar and vanillin, continue to beat.
We mix the curd mass with sour cream using a whisk or a silicone spatula.
Gradually add and stir in 2 eggs.
Add lemon zest, grated on a fine grater.
Pour the curd filling on top of the cheesecake base, level, and shake.

We send it to the oven for 1 hour, bake the curd cheesecake at a temperature of 160 degrees. You need to put a container with water down so that the cake does not crack and the cheesecake turns out to be tender. Leave the cheesecake to cool in the slightly open oven turned off (do not take it out sharply!).
Homemade curd cheesecake with lemon is ready. We send the cheesecake to the oven for 3-4 hours or to the refrigerator overnight.
Bon Appetit!
Also Like
Comments for "Curd Cheesecake with Lemon Zest"