Curd Pie with Quince and Lemon Zest
by Editorial Staff
Delicate, airy and aromatic cake. Curd dough rises well due to the baking powder. Quince and lemon zest enrich the taste and aroma of the cake. With tea or coffee, for dessert or just like that – this curd pie with quince and lemon zest will always come in handy!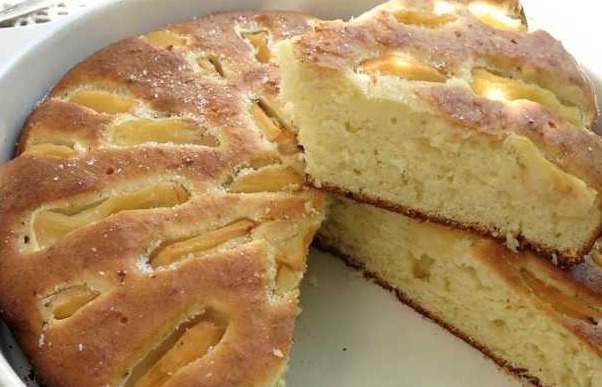 Servings: 8
Cook: 1 hour 10 minutes
Ingredients
Quince – 300 g (I have 2 small ones)
Cottage cheese (soft, homogeneous) – 300 g
Butter (softened) – 80 g + for form preparation
Eggs – 3 pcs.
Lemon – 1 pc.
Sugar – 200 g + 2 tablespoon. syrup spoons
Flour – 300 g (2 cups, 250 ml)
Baking powder – 18 g
Directions
We prepare the necessary products.
The butter should be soft, the cottage cheese and eggs should be at room temperature. If they are in the refrigerator, we get them out in advance.
Cottage cheese (I have 9% fat) should be homogeneous. Granular curd can be blended until smooth.

We clean the quince from the skin and seeds.
To make syrup for boiling quince, pour 2 tablespoon into a saucepan with 450 ml of water. tablespoons of sugar. Bring the syrup to a boil. Add a slice of lemon to it.
Put the peeled quince in syrup and cook almost until tender (I cooked for 5 minutes).
We get the quince out of the syrup with a slotted spoon.
Using a fine grater, remove the zest (yellow outer layer of the peel) from the lemon, about 1 teaspoon.
Preheat the oven to 180 degrees.
Beat the softened butter with sugar until white.
Introduce the eggs one by one into the beaten mass, mixing them well each time.
Add cottage cheese and zest. First mix with a spoon, and then beat until smooth with a mixer.
Mix flour with baking powder.
Sifting flour in parts into the dough, first stir it in with a spatula (so as not to raise the flour "clouds"), and then use a mixer to mix the dough until smooth.
Cover the baking dish (I have a diameter of 28 cm) with baking paper and grease with butter.
Put the finished dough in a mold and distribute it evenly over the entire area, level the surface.

Put the quince on top, pressing it a little into the dough.
We place the mold in the oven, preheated to 180 degrees. We bake curd pie with quince for 30-40 minutes. We check the readiness with a wooden skewer – after piercing the cake, it should come out clean.
Ruddy fragrant cake is ready.
Let it cool down.

Cut the curd pie with quince into portions and serve.
Bon Appetit!
Also Like
Comments for "Curd Pie with Quince and Lemon Zest"