Crispy Lemon Curd Pie
by Editorial Staff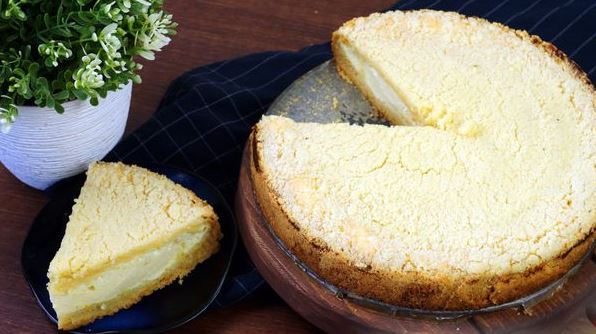 Delicate lemon-curd pie with an amazing crumb on top served with sour cream or condensed milk. We are sure that you and your loved ones will appreciate this recipe.
Ingredients
For the lemon-curd layer:
Cottage cheese (I have 9% fat) – 500 g
Sugar – 80 g
Eggs – 4 pcs.
Lemon (zest) – 1 pc.
For a sand base:
Flour – 350 g
Butter – 200 g
Sugar – 180 g
Salt – ½ teaspoon
Soda – ½ teaspoon
Directions
Prepare the lemon curd layer. Beat the cottage cheese with a blender. Beat eggs with sugar, add lemon zest.

Combine cottage cheese and egg-sugar mixture, mix until smooth.
To prepare the sand base, cut the cold (from the freezer) butter into small cubes.
Grind flour with sugar and butter to a state of bread crumbs. Add baking soda, salt and mix well. We put the oven to warm up to 180 degrees.
Cover the bottom of the baking dish with parchment, grease the sides with butter. Pour most of the sand crumbs to the bottom, tamp, and make sides. Layout the curd filling and level the surface.
Layout the rest of the sand crumbs on top so that the upper and lower layers are connected along the sides. We send it to an oven preheated to 180 degrees for 40-45 minutes until the top layer is golden (it took me 40 minutes).
Bon Appetit!
Also Like
Comments for "Crispy Lemon Curd Pie"