Curd Dessert with Lemon
by Editorial Staff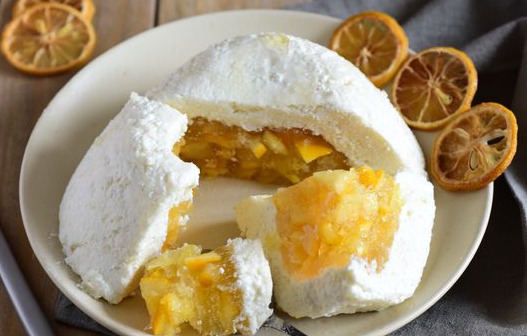 An interesting curd dessert with lemon can be prepared from a minimum amount of products: cottage cheese, lemon, sugar, and gelatin. It turns out not only delicious but also incredibly beautiful!
Cook: 4 hour
Servings: 4
Ingredients
Cottage cheese – 200 g
Lemon – 1 pc. (120 g)
Sugar – 100 g
Instant gelatin – 20 g
Directions
Pour gelatin into a saucepan, pour in 100 ml of water, and leave to swell for 20 minutes.
Combine cottage cheese and 25 g of sugar in a bowl.
Mix the cottage cheese with sugar thoroughly. I interrupted the curd mass with a hand blender to make the mixture more even.
Wash the lemon thoroughly, cut it into small pieces, and put it in a bowl.
Add 75 g of sugar to the lemon slices.

We mix.
Put the swollen gelatin in a saucepan on minimum heat and heat it, stirring constantly, until it is completely dissolved. Do not bring to a boil!
Pour 2/3 of the gelatin mixture into a bowl with the curd mass and mix. Add the remaining 1/3 of the gelatin mixture to a bowl to the lemon slices and mix too. We select a convenient form for the future dessert. I took a small 0.7-liter plastic bowl. We spread the curd-gelatin mixture into a mold, tamp it well with our hands, and put it in the refrigerator for 20 minutes.
After the refrigerator, the curd mass will not solidify yet but will become springy. Therefore, we select a second container, the size of which will be approximately half the size of the form with cottage cheese. It was convenient for me to use a faceted glass (volume 250 ml). With glass, we make a notch in the curd mass (about 5-6 cm deep).
We immediately remove the glass, leaving a notch in the curd mass.
We fill the recess with lemon-gelatinous mass. We send the completed form to the refrigerator for 2-3 hours.

After 3 hours, we take out the mold with the frozen curd-lemon dessert. In order to gently remove the dessert from the mold, I put the plastic mold in a larger container with very hot water for 3-4 minutes and then using my fingers (just a little bit), I removed the dessert without damage onto a flat plate. This wonderful mouth-watering dessert can be served to the table, garnished at your discretion (for example, lemon chips or grated chocolate).
Enjoy your meal!
Also Like
Comments for "Curd Dessert with Lemon"