Curd and Raspberry Dessert
by Editorial Staff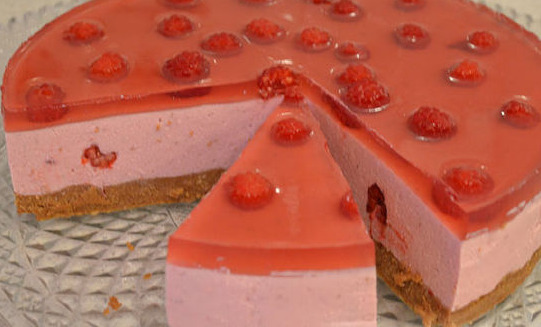 Very tasty and easy-to-prepare cottage cheesecake dessert without baking. All products are available and inexpensive. The preserved vitamins, which are contained in cottage cheese and raspberries, are very important in this delicacy because a curd jelly cake is prepared without heat treatment. Cook, taste, write comments.
Cook: 8 hour
Servings: 10
Ingredients
Cottage cheese – 500 g
Sour cream 25% – 200 g
Raspberries – 400 g + 100 g for decoration and interlayer
Oatmeal cookies – 300 g
Butter – 200 g
Gelatin – 30 g
Sugar – 130 g + 4 teaspoon. in jelly
Vanilla sugar – 10 g
Water – 300 ml
How to make curd-raspberry dessert:
Directions
Divide the gelatin into two parts – pour 20 g into one container, and add 10 g into the other container. Fill with cold water to swell.
Combine oatmeal cookies and softened butter at room temperature in a blender. Cover the bottom of the split form with parchment. Put the biscuits tightly on the bottom of the mold, level the surface. Place in the freezer for 10 minutes.

In a blender, beat sour cream, cottage cheese, 300 g of raspberries, sugar, vanilla sugar.
Dissolve 20 g of swollen gelatin in a water bath. Pour into the curd mass.
Beat everything again with a blender so that the gelatin mixes well. We take out the form from the freezer – the cookies are already frozen. Pour half of the curd mass into a mold. We spread some of the raspberries.

Fill with the rest of the curd mass, level the surface, and put the mold in the freezer for 30 minutes.
Pour 100 g of raspberries into a saucepan, 4 teaspoon. sugar and pour in 300 ml of water. Bring to a boil, turn off the heat and let the compote cool down. We filter the warm compote through a sieve. Add the remaining gelatin (10 g) diluted in a water bath, mix.
We take out the form, layout the drawing from the berries, and fill it with a thin layer of jelly. We put it in the refrigerator for 10 minutes. Fill in the remaining jelly. We send the jelly cake to the refrigerator for at least 6 hours. I left it overnight.
We remove the side, put the dessert cake on a dish. Cut into pieces and serve the curd-raspberry dessert to the table.
Enjoy your meal!
Also Like
Comments for "Curd and Raspberry Dessert"