Raspberry Dessert
by Editorial Staff
At the height of summer, when the raspberry season comes, of course, I want to cook something interesting from this delicious berry, and not just preparations for the winter. So welcome – raspberry dessert.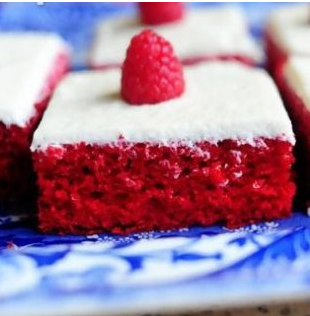 Cook: 58 mins
Serving: 8-14
Ingredients
Margarine – 1 Glass
Cream – 1 Glass
Sugar – 1 Tbsp. the spoon
Flour – 200 Grams
Eggs – 2 Pieces
Soda – 1 Teaspoon
Raspberry – 200 Grams
Cocoa – 3 Teaspoons
Additives – 5 Teaspoons (Vanilla, vinegar, salt, red food coloring, powdered sugar)
Cream – 100 Grams (for whipping)
Directions
First, sift the flour along with salt.
Then in a separate bowl, mix: eggs, cream (not all, leave 100 g for the filling), vanilla and soda slaked with vinegar.
Beat everything with a whisk or mixer (at the lowest speed).
In a small bowl, combine red food coloring and cocoa.
Beat the softened butter in a separate bowl again, add some of the flour, mix well. Next, add this solution to the egg-cream mixture and beat again. Continue adding the flour a little at a time until it is used up
Then add the dye with cocoa to the dough and mix thoroughly.
Remember to preheat the oven to 180 degrees. Next, grease a baking dish with butter. Place the dough in a mold and flatten it thoroughly with a spatula or table knife.
The cake should be baked for about 20 minutes. Then place the cake out of the mold on a cutting board and let it cool for 20 minutes.
Lastly, cover the cake with a pre-prepared icing of cream and powdered sugar. You can use raspberries or others to decorate the cake
Bon appetit!
Also Like
Comments for "Raspberry Dessert"