Lush Donuts on Condensed Milk
by Editorial Staff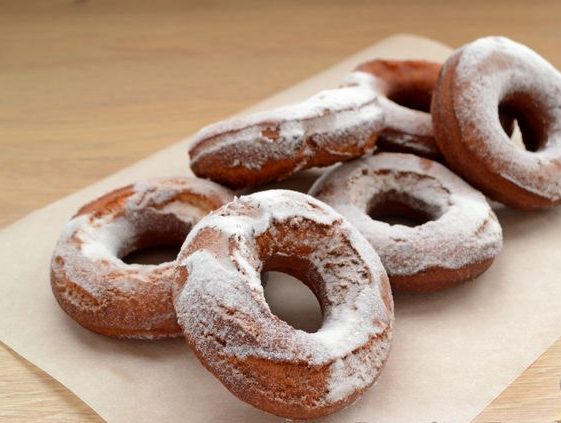 If you love donuts but do not have the time or desire to cook yeast dough for them, I offer an excellent alternative – condensed milk donuts, the dough for which is prepared with baking powder. Donuts according to this recipe are just as fluffy and cook much faster. You just need to get up half an hour earlier than the rest, and on Saturday morning the whole family will wake up to the vanilla aroma of fresh baked goods.
Ingredients
Wheat flour – 350 g
Condensed milk – 300 g
Eggs – 2 pcs.
Baking powder – 1 tbsp
Vanillin – 1/2 teaspoon
Salt – 1/3 teaspoon
Refined vegetable oil – 300-600 ml (for deep fat)
Powdered sugar (for decoration) – 1 tbsp
Directions
Break the eggs into a deep bowl.
Add condensed milk and stir the ingredients.
Pour vanilla, salt, and baking powder into a bowl, stir again.
Slowly add the sifted flour, start kneading the dough.
When the dough has already formed into a lump, place it on the table and knead.
The dough should be smooth. Prepare the donut molds (mine is round and heart-shaped).
Divide the dough into two equal parts. Roll half of the dough into a layer 0.6-1 cm thick. Cut donut blanks from the dough. With a regular plastic bottle cap, make holes in the middle of the blanks.
Heart-shaped donuts proved to be more popular and were the first to be swept off the table. 🙂
Heat a skillet with vegetable oil. The amount of vegetable oil will depend on the size of your deep-frying pan (I needed about 500 ml).
Fry the donuts in hot oil on each side for about a minute, depending on the temperature of the oil.
Try to keep the butter not too hot, otherwise, the donuts will fry on the outside but remain moist on the inside.
Place the fried donuts on a paper towel to drain the excess oil.
To decorate donuts, prepare powdered sugar (you can grind 1 tablespoon of sugar in a coffee grinder).
Sprinkle the cooled donuts with powdered sugar through a strainer.
Condensed milk donuts turned out with a crust on the outside and soft inside, with a pleasant aroma of vanilla baked goods.
Of course, this dish cannot be called useful, since donuts are fried in hot vegetable oil. But sometimes you really want to pamper yourself and your family with something, albeit harmful, but very tasty!
Also Like
Comments for "Lush Donuts on Condensed Milk"