Airy Easter Cake Made from Yeast Dough
by Editorial Staff
Delicious, tender Easter cake made of yeast dough, which I recommend to cook for Easter.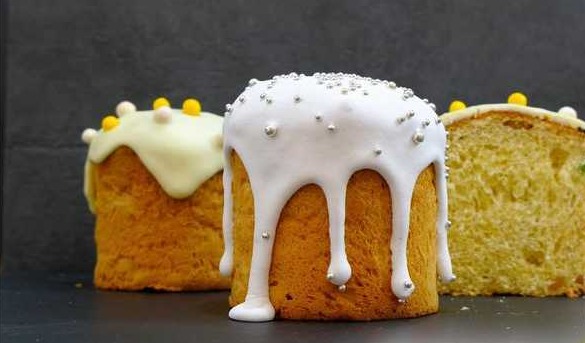 Cook: 5 hours
Ingredients
Wheat flour – 450-500 g + 0.5 tbsp
Milk – 150 ml
Dry yeast – 9-10 g (3 teaspoon)
or fresh yeast – 30 g
Sugar – 150 g
Sour cream 15% – 100 g
Butter – 100 g
Yolks – 2 pcs.
Egg – 1 pc.
Lemon (zest) – 1 pc.
Raisins – 150 g
Candied fruits – 100 g
Vanilla sugar – 20 g
Vegetable oil (for working with dough) – 30 ml
Salt – 1/3 teaspoon
Directions
Sift the flour.
Heat the milk until slightly warm.
For dough in warm milk we send dry yeast, 1 tablespoon. a spoonful of sugar and 2 tablespoon. tablespoons of flour. We mix. No need to achieve uniformity, small lumps of flour are acceptable. Cover the bowl with the dough with a towel and leave for 10 minutes.

On a fine grater, rub the lemon zest, only the yellow part, without the white one.
In a mixer bowl, mix the yolks, egg, vanilla sugar, remaining sugar and salt. Beat with a mixer until a light fluffy mass.
Rinse candied fruits and raisins and pour boiling water for 10 minutes, then dry with paper towels.
Melt the butter and cool until warm.
Dough came up, a fluffy foam hat appeared on her. We mix.
We send beaten eggs, butter, sour cream and lemon zest to the dough. We mix.
Add sifted flour (I added 460 g). We knead the dough.
Sprinkle flour on the work surface and hands. We shift the dough here.
Knead the dough for 10-15 minutes. In total, it took me 500 g of flour, I don't add more.
The dough is very sticky. To make it convenient to knead, periodically grease the hands and surface with vegetable oil. If the dough sticks to the surface, use a pastry scraper (spatula).

The dough should be soft, but not sticky to your hands.
Put the dough in a bowl greased with vegetable oil. Cover the bowl with the dough with a towel and let it stand in a warm place for 2 hours. During these 2 hours, the dough must be kneaded 2 times, every 40 minutes. At the same time, we grease our hands with vegetable oil.
Roll raisins and candied fruits in a small amount of flour (0.5 tablespoons).
We lubricate the work surface and hands with vegetable oil. Stir in raisins and candied fruits into the dough.
The total weight of the dough is 1250-1260 g. Divide the dough into 5 parts, 250 g
each for 5 molds with a diameter of 9 cm. Round each part of the dough and put it into molds.
Cover with a towel and place the dough forms in a warm place for proofing. Leave at room temperature until the dough takes up the entire volume of the molds, for about 1-1.5 hours.
We turn on the oven, let it heat up to 180 degrees.

We bake cakes at 180 degrees for 30-40 minutes. If the top of the cakes starts to burn, then you can cover it with foil. I covered it with foil after 15 minutes of baking, the total baking time of my cakes is 33 minutes.
When the cakes are completely cool, they can be glazed and decorated as you like.
Bon Appetit!
Also Like
Comments for "Airy Easter Cake Made from Yeast Dough"