Pies "Snails" with Minced Meat and Vegetables
by Editorial Staff
Snail pies with crispy crust on top and juicy minced meat and vegetables filling inside! Delicious baked goods made from affordable and simple products!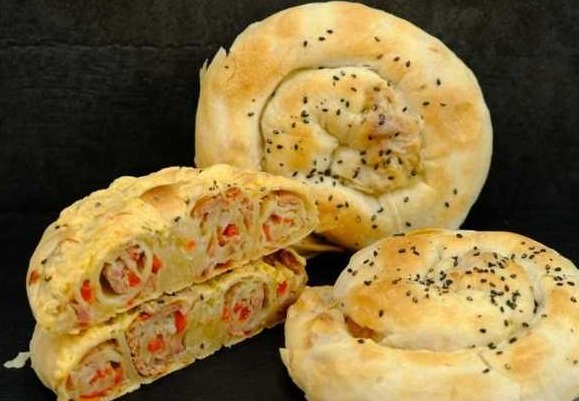 Cook: 1 hour
Ingredients
For the dough:
Wheat flour – 250 g
Salt – ½ teaspoon
Hot water – 120 ml
Vegetable oil – 2 tbsp
For filling:
Meat or minced meat (I have pork) – 300 g
Bulgarian pepper – ½ pc.
Tomato – ½ pc.
Bulb onions – 1 pc.
Salt to taste
Ground black pepper – to taste
Butter – 30 g
Sesame seeds – 1 handful
Directions
Sift flour. Add salt and vegetable oil to hot water, mix and pour into flour.
Stir first with a spoon, then knead the dough with your hands and collect into a lump. Knead the dough for a couple of minutes.
Place the dough in a bag and leave to rest for 20 minutes.
Pass the meat through a meat grinder. Or take ready-made minced meat.
Peel the onion and chop finely.
Peel the bell pepper and cut into strips.
Cut the tomato into thin small slices.
Stir vegetables with minced meat, salt and pepper to taste.

Preheat the oven to 200 degrees.
Divide the dough into 3 parts and round.
Dust the surface of the table with flour. Roll out each part of the dough as thin as possible, grease with melted butter. Put the minced meat with vegetables on the greased dough, not reaching the edge of 7 cm.
Roll the dough with filling into a roll, grease the top and sides with melted butter.

Roll the roll into a snail and sprinkle with sesame seeds (I sprinkled one pie with grated cheese, for interest).
Put the "snails" with minced meat and vegetables on a baking sheet with parchment.
Bake "Snails" pies with minced meat and vegetables in the oven at 200 degrees for 25-30 minutes, until golden brown.
Bon Appetit!
Also Like
Comments for "Pies "Snails" with Minced Meat and Vegetables"