Cabbage with Rice, in the Oven
by Editorial Staff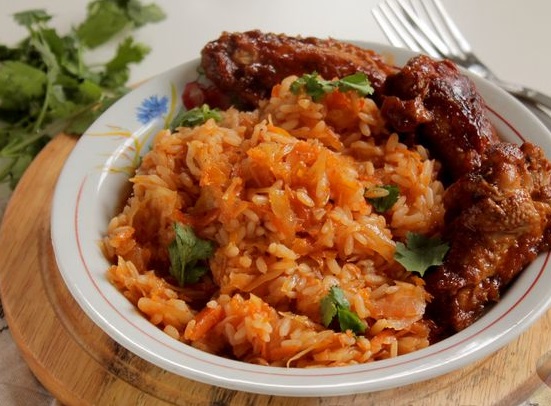 Relatively inexpensive, very tasty, and without complicated culinary manipulations! All ingredients are available, perfectly harmonize and complement each other. Such cabbage with rice is an excellent side dish for meat and poultry, as well as an independent lean dish.
Ingredients
White cabbage – 500 g
Rice – 100 g
Carrots – 100 g (1 pc.)
Tomato paste – 75 g
Salt to taste
Vegetable oil – 30-45 ml (2-3 tablespoons)
Parsley (for serving, optional) – 1-2 sprigs
Directions
Take the groceries on the list. Any rice can be used.

Chop the cabbage. Peel the carrots and grate on a coarse grater. Rinse the rice thoroughly.
Combine cabbage and carrots, salt, and stir.
Heat vegetable oil in a skillet. Place cabbage with carrots and cook over medium heat for 7 minutes. Turn on the oven to heat up to 160 degrees.
Add rice, water (75-100 ml), tomato paste, salt to vegetables. Stir and heat for 2-3 minutes.
Transfer the contents of the skillet to a baking dish. Send to the preheated oven and cook the cabbage and rice for 30-35 minutes at 160 degrees, until tender.
After 15 minutes from the start of cooking, remove the form with cabbage and rice from the oven. Stir and, if necessary, add boiling water. Then return the mold to the oven.
Oven-baked cabbage with rice is ready. Sprinkle with herbs before serving.
The dish is completely self-sufficient, in addition, it will be an excellent side dish for meat, poultry or fish.
Enjoy your meal!
Also Like
Comments for "Cabbage with Rice, in the Oven"