Cabbage Rolls with Pork Chops and Mushrooms, no Rice (in the Oven)
by Editorial Staff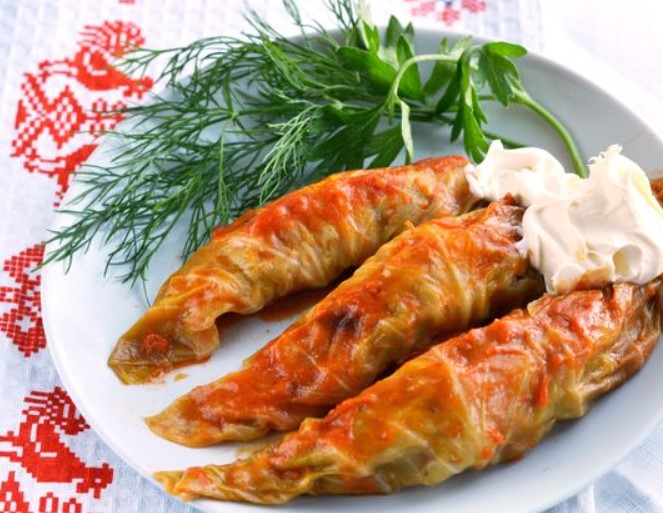 The stuffed cabbage rolls according to this recipe are very tasty. The secret is that they are cooked with pork chops instead of minced meat, with fried mushrooms and no rice, in cabbage leaves. Thanks to long-term simmering in sour cream-tomato sauce, cabbage rolls become tender and fragrant, just melting in the mouth.
Cook: 2 hours
Servings: 5
Ingredients
Pork (rump) – 500 g
White cabbage – 800 g
Champignons – 300 g
Bulb onions – 2 pcs. (150 g)
Vegetable oil – 2 tbsp
Salt – 0.25 teaspoon (to taste)
Ground black pepper – 0.25 teaspoon (to taste)
To fill:
Tomato sauce – 3 tbsp (45 g)
or tomato paste – 1.5 tbsp
Flour – 2 tbsp (40 g)
Sour cream 20% – 3 tbsp (60 ml)
Sugar – 1 pinch
Salt – 0.5 teaspoon
Ground black pepper – 1-2 pinches
Dried oregano – 1-2 pinches
Hot drinking water – 300 ml
For the filling (optional):
Fresh parsley – 1-2 branches (to taste)
Fresh dill – 1-2 branches (to taste)
Sour cream – to taste
Directions
We prepare the necessary ingredients.
Rinse the pork and dry it with a paper towel.
During the cooking process, you will need hot drinking water.

We wash the head of young cabbage and cut out the stump.
Boil water in a large saucepan, add salt and put ahead of cabbage there. Cook the cabbage until the top leaves are easily separated from the head of the cabbage (1-2 minutes is enough for young cabbage). Remove the leaves from the cabbage and set aside to cool. We continue to cook the cabbage to easily remove the rest of the leaves.
Cut off the thickening at the base of the leaf from the cooled cabbage leaves.
Peel the onion, rinse and cut into medium cubes.
We wash the oyster mushrooms, dry them, and cut them into large pieces.
Fry the onions in a frying pan preheated with vegetable oil for 2 minutes.
Add chopped oyster mushrooms to the onion and fry for 5-7 minutes, until golden brown.
Then salt and pepper.
Cut the pork into thin slices and beat off.
Salt and pepper the pork chops.
We turn on the oven to heat up to 180 degrees. Put one chop on each cabbage leaf. Put 2 teaspoons of mushrooms fried with onions on the chop.

We roll up the stuffed cabbage leaf into a thin roll-tube.
In this way, we fold cabbage rolls from the remaining leaves of cabbage, chops, and mushrooms. Place the cabbage rolls in a baking dish or thick-walled saucepan. (I have a tall, thick-walled, heat-resistant glass pan with a diameter of 22 cm.)
Cooking stuffed cabbage sauce. To do this, combine sour cream, flour, tomato sauce, salt, sugar, ground pepper, and oregano in a bowl. Add hot water and mix the filling until smooth.
Fill the cabbage rolls with tomato-sour cream sauce, cover with a lid and send to the oven preheated to 180 degrees for 1-1.5 hours. Adjust the baking temperature so that there is a slight boil (gurgling) in the pan and the sauce does not flow out of the pan.
Cabbage rolls with pork and mushrooms, no rice, ready.

We put stuffed cabbage rolls on plates and serve them with sour cream, decorating with fresh herbs if desired.

Enjoy your meal!
Also Like
Comments for "Cabbage Rolls with Pork Chops and Mushrooms, no Rice (in the Oven)"