Cauliflower Fried Rice with Vegetables
by Editorial Staff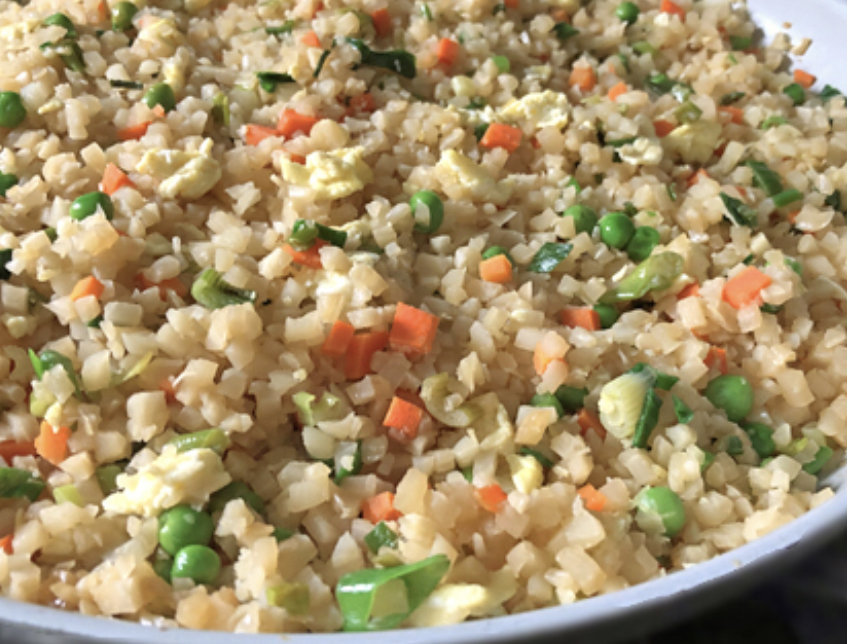 This recipe for fried cauliflower rice (fried rice) with carrots and peas will surely provide you with a delicious dinner. This dish is healthy, low in carbohydrates, contains a lot of vegetables, and is ready in less than 30 minutes. This is one of my favorite ways to make cauliflower.
Ingredients
eggs 2 pieces
5 green onions (chopped into small rings, set aside light and green parts separately)
2 cloves garlic (large, finely chopped)
ginger 1 tablespoon (finely grated)
cauliflower 700 grams (chopped to a rice consistency, I used frozen)
1 carrot (finely chopped)
3/4 cup peas (frozen)
coconut aminos (raw coconut amino acid sauce) 4 tablespoons (can be substituted with soy sauce)
1 teaspoon rice vinegar
sesame oil 1 teaspoon (from roasted seeds)
avocado oil 3 tablespoons (can be
substituted with vegetable oil)
salt
Directions
In a bowl, beat eggs and a pinch of salt with a fork. In a large skillet, heat 1 tablespoon avocado oil and add the egg mixture. Once the eggs begin to cook, slowly stir them with a spatula, from outside to inside, forming pieces of eggs. Stir until there is no egg liquid left. Transfer to a plate and set aside.
Add another 2 tablespoons of avocado oil to the same skillet. Add the light green onion pieces, ginger, and garlic, and fry for about 3 minutes.
Add carrots, cauliflower, and coconut aminos, cook for 5 minutes, stirring occasionally. Add peas, leftover green onions, rice vinegar, sesame oil, and fried eggs. Cook for another 3-5 minutes, until the peas are warm, but the cauliflower is still slightly crispy. Season with salt (if necessary) and serve.
Enjoy your meal!
Also Like
Comments for "Cauliflower Fried Rice with Vegetables"