Chicken Meatballs with Vegetable Soup
by Editorial Staff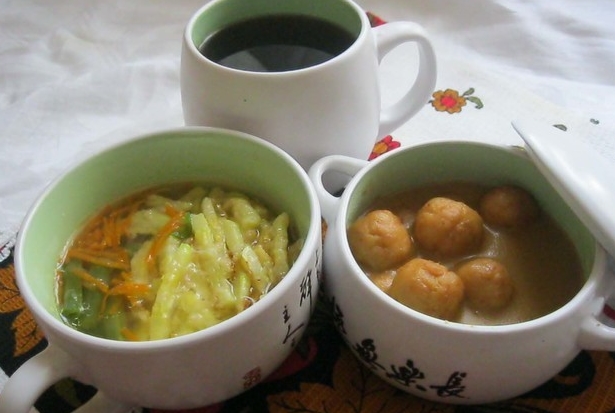 Servings: 2
Cook: 60 mins
Ingredients
minced chicken – 150 gr.
zucchini – 100 gr.
carrots – 100 gr.
onions – 1 head
green beans – half tablespoon.
soy sauce – half tablespoon.
dried ginger – 1 tablespoon
garlic – 3 cloves
greens
Directions
The peculiarities of this dish are that meatballs and soup are served in separate dishes and eaten alternately. I have met this way of serving and eating in Chinese, Korean and Japanese cuisines. I don't know what nutritionists will say about this, because all the ingredients, anyway, are immediately mixed in the stomach, but this gives the dish a peculiar taste.
Minced meat, for the meatballs, I made myself, taking, in equal quantities, the meat of the breast and thighs. This combination allows you to get a strong, but at the same time, tender minced meat. Salted and pepper to taste and rolled up small meatballs, the size of large cherries. Dip them lightly in flour and put them in the refrigerator.
In half a liter of salted water, I put a small onion to cook, two cloves of garlic, a couple of sprigs of parsley and thyme and skins peeled off a small zucchini. This will be the broth for the vegetable soup. After boiling, it is enough for him to boil for ten minutes.
I cut the zucchini into a block, mixed with a teaspoon of wheat flour and put it in the refrigerator to the meatballs.
Strain the finished broth through a sieve, add carrots cut into strips and half a glass of green beans. Now we can do the meatball sauce.
In a small saucepan, I boiled half a glass of soy sauce and added a tablespoon of ground ginger and half a teaspoon of sugar to it. He let it boil for half a minute and poured in a teaspoon of flour diluted with a small amount of water. He let the sauce thicken and put it on the edge of the stove so that it does not cool down.
The meatballs were fried in a large amount of vegetable oil until golden brown. I put it in hot sauce, mixed it and put it in a ceramic dish with a lid, which I had previously doused with boiling water.
I put a crushed garlic clove in the remaining oil and fried the zucchini on it.
He poured two ladles of hot vegetable soup into the soup bowl, put a teaspoon of chopped green onions and two tablespoons of toasted zucchini. Nearby I put hot meatballs soaked in aromatic sauce and a cup of herbal tea without sugar.
Also Like
Comments for "Chicken Meatballs with Vegetable Soup"