Chicken Salad with Grapes
by Editorial Staff
Once again I am convinced that the salad can be made from any product, there would be a desire and imagination. Here's a simple cookbook recipe for how to make chicken and grape salad.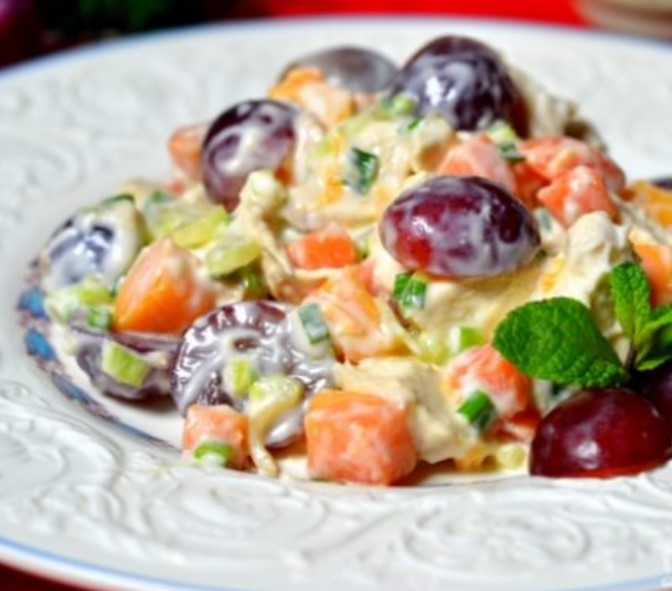 Cook: 1 hour
Servings: 3-4
Ingredients
Chicken Breast – 1 Kilogram
Celery – 4-5 Pieces (stem)
Green Onions – 1/2 Bunch
Papaya – 300 Grams
Mayonnaise – 250 Grams
Grapes – 300 Grams
Salt – To taste
Directions
Cut off the fillet from the chicken breast and place it in a saucepan, then pour it over with cold water, add a little salt. I send the pan to the fire and boil the meat until tender.
My celery and cut it into half rings, you can even smaller.
My green onions and chop finely with a sharp knife.
My papaya and cut, peel and cut into cubes.
Put papaya, celery and green onions in a salad bowl.
I cut my grapes and cut each berry into 2 parts, clean out the seeds (can be used without seeds).
I take the finished fillet out of the pan and cool it, then cut it into rather large pieces (about 2 centimeters).
Stir all the ingredients in a salad bowl, and then add the boiled chicken. I dress the salad with low-calorie mayonnaise (30% fat).

Stir the salad and add the grapes at the very end. Gently mix again.
The salad can be sent to the refrigerator for 30 minutes, but if time is running out, you can immediately put it on the table.
Bon appetit!
Also Like
Comments for "Chicken Salad with Grapes"