"Emerald" Salad with Grapes
by Editorial Staff
"Emerald" salad with grapes is definitely extraordinary. Chicken meat has always gone well with boiled eggs and cheese. But grapes, gives an unusual taste, adding freshness and sourness.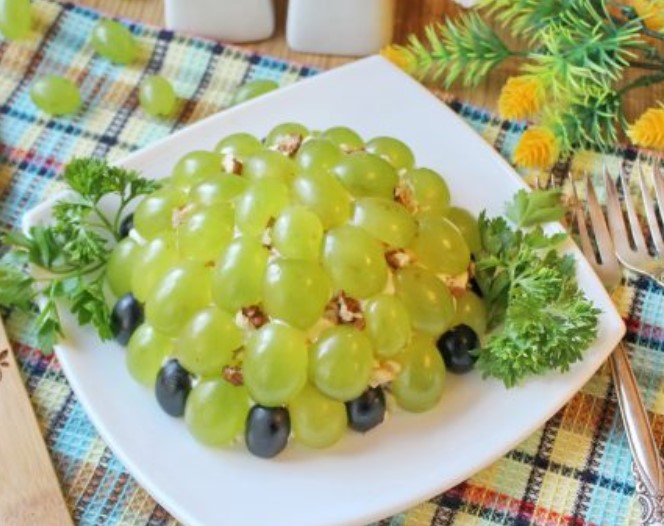 Cook: 40 mins
Servings: 3-4
Ingredients
Chicken – 200 grams (boiled)
Chicken Egg – 2 Pieces
Walnuts – 50 Grams
Cheese – 70 Grams (hard)
Grapes – 200 Grams
Mayonnaise – 100 Grams
Olives – 6-7 Pieces (without pits)
Directions
Prepare the ingredients for your grape salad.
Finely chop the boiled chicken, cooked in salted water and place on a plate in the first layer.
Cover the chicken with a net of mayonnaise.
Chop the walnuts and lay out in a second layer.
Cover the nuts with mayonnaise and lay out the boiled eggs, which need to be grated.
Cover the eggs with mayonnaise.
Cover the whole salad with grated cheese.
Cover the cheese with a net of mayonnaise.

Wash the grapes and cut each grape in half lengthwise. If there are bones, remove them.
Place the halves of the grapes on the bottom of the salad, alternating with the halves of the olives.
Cover the whole salad with grapes.
This is how it looks from the side.
Emerald salad with grapes is ready. Serve an elegant, tasty and beautiful salad on the festive table.
Bon appetit!
Also Like
Comments for ""Emerald" Salad with Grapes"