Chili Soup
by Editorial Staff
Chili soup is a very interesting Mexican dish, which is particularly thick, spicy and interesting in appearance. The soup is made from minced meat, beans and tomato paste for an hour.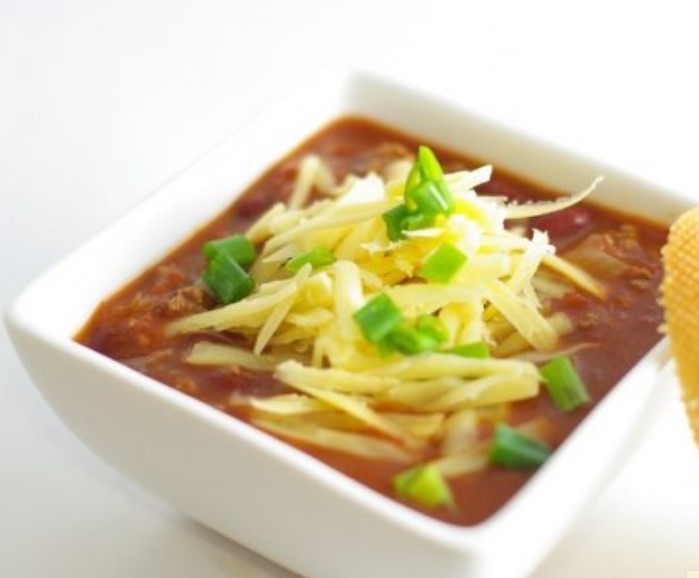 Cook: 1 hour
Servings: 5
Ingredients
Minced meat – 500 grams (lean)
Onion – 2 Pieces
Garlic – 2 Cloves
Chili Pepper – 2 Pieces
Ground cumin – 2 Teaspoons
Ground pepper – 2 Teaspoons
Sugar – 1 Tbsp. the spoon
Canned tomatoes – 1 Piece (jar)
Tomato Paste – 700 Milliliters
Canned beans – 1 Piece (can)
Cheese – – To taste
Salt – – To taste
Cocoa – 1 Teaspoon
Directions
Fry the minced meat in oil right in a saucepan.
We knead it well so that no large lumps form.
We clean and rinse vegetables.
Finely chop the onion.
Fry it in a skillet, then add finely chopped chili.
Add ground cumin, pepper, salt, minced garlic and simmer a little.
Then we shift the frying to the minced meat in a saucepan, put the tomatoes and fill it with tomato paste. Add water. We put on medium heat, cover and cook for about 45 minutes.
After the allotted time for cooking has passed, add sugar and salt. Add a can of canned beans.

We put a spoonful of cocoa. Add more water and cook over low heat for about 15 minutes.
Serve chili soup with grated cheese and white bread.
Bon Appetit!
Also Like
Comments for "Chili Soup"