Chicken Chili
by Editorial Staff
Chilli chicken recipe.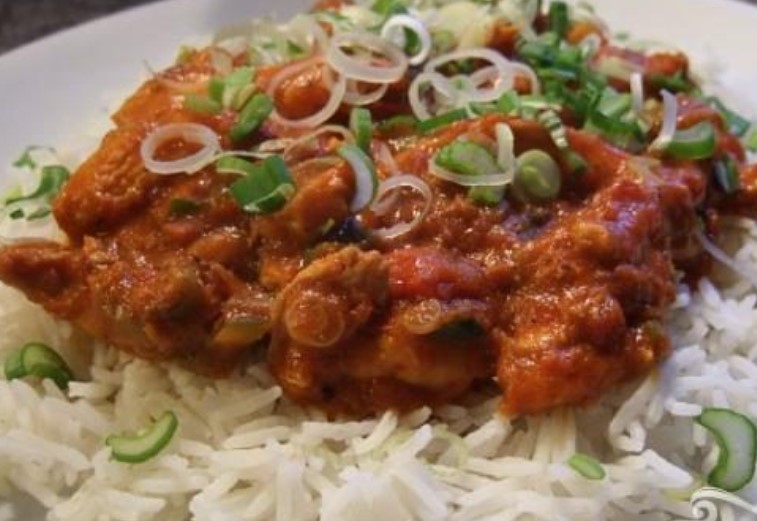 Cook: 10 hour
Servings: 6
Ingredients
Chicken Breasts – 1.5 Kilograms
Chicken Broth – 1 Glass
Green Onions – 1 Cup (chopped)
Onions – 1 Cup (chopped)
Garlic – 2 Cloves
Green chili – 1 Piece (chopped)
Red Chili – 2 Pieces (chopped)
Olive oil – 2-3 tbsp (or vegetable)
Coriander seeds – 1 Tbsp the spoon
Caraway seeds – 1
Celery seeds – 1 tablespoon. spoon (powder)
Honey – 1 Art. the spoon
Lime juice – 1 Tbsp. the spoon
Salt, pepper – – To taste
Bell Peppers – 1/2 Cup
Directions
Chop up dried tomatoes, red chili, and garlic.

Fry the cumin and coriander in a dry skillet until aromatic.
Place bell peppers, red chili, dried tomatoes, cumin, and coriander in a blender bowl.
Stir in pulse mode with oil or water (a little) if it is too thick.
Stir until smooth, then add green chili and stir gently (two to three presses).
Add the mixture to the chopped chicken and mix well and marinate in the refrigerator overnight.
The next day, remove the chicken 30-60 minutes before cooking. Then, prepare the green onions, cherry tomatoes and cook the rice.
In a wide saucepan, fry the chicken in one layer, until brown.
When all the chicken is fried, pour the broth into a saucepan and toss in the whole chicken.
Add cherry tomatoes and onions (save some onions for garnish).

Simmer until smooth, add lime juice, honey, celery seeds, salt and pepper.
Serve with rice, sprinkled with green onions,
Bon appetit.
Also Like
Comments for "Chicken Chili"