Cucumber Soup
by Editorial Staff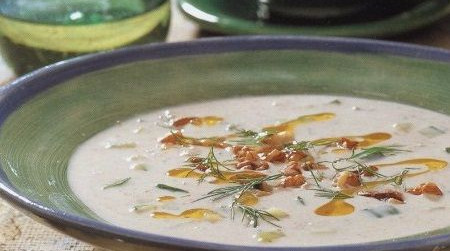 Such a cucumber soup is a light version of okroshka; yogurt is used for dressing.
Ingredients
Medium cucumber – 1 pc.
Garlic – 4 cloves
Salt – 1/2 teaspoon.
Walnut – 75 g (3/4 cup)
Bread (crumbled) – 40 g
Walnut or sunflower oil – 30 g (2 tablespoon. L.)
Natural yogurt – 400 g
Mineral water – 120 g
Fresh lemon juice – 1-2 teaspoon.
Walnut (crushed) for serving
Olive oil
Dill sprigs for serving
How to make cucumber soup:
Directions
Cut the cucumber in half and peel one half, cut both halves into small cubes, set aside.
In a large mortar, crush the garlic and salt, add 75 walnuts and bread crumbs. Crush the mass until smooth. Then add walnut oil or sunflower oil, stir well with a pestle.
Transfer the contents of the mortar to a large bowl, add the yogurt, and mix well. Put the diced cucumber into this mass.
Pour cold mineral water and lemon juice over the mass, stir.
Serve the cucumber soup on serving bowls, sprinkle with walnuts, dill, and olive oil.
Enjoy your meal!
Also Like
Comments for "Cucumber Soup"