Focaccia with Rosemary and Salt
by Editorial Staff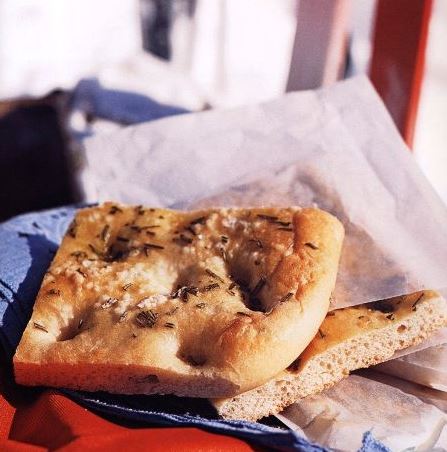 Focaccia is prepared with yeast dough with rosemary and coarse salt.
Ingredients
Fresh rosemary (chopped) – 3 tbsp
Honey – 1 tbsp
Dry fast-acting yeast – 2.25 teaspoon.
Boiling water – 1.25 cups
Flour – 470 g (3.75 cups)
Olive oil – 0.25 tbsp
Salt – 1 teaspoon
Vegetable oil
Water – 1 teaspoon.
Egg yolk – 1 pc.
Coarse salt – 0.5 teaspoon.
Directions
In a large bowl, combine boiling water, 1 teaspoon of rosemary, and honey, stir and cool to 50 degrees. Pour yeast into warm water, leave for 5 minutes.
Add 3.25 cups flour, 1 teaspoon of salt, and 2 tablespoons of olive oil to the water. Mix. Place the dough on a floured surface, knead to a firm dough, adding more flour if necessary.
Place the dough in an oiled bowl, brush the dough with butter. Cover the bowl and place in a warm place for 45 minutes (the dough should double in volume).
Slightly crush the matched dough and smooth into a layer 35×30 cm in size. Grease a large baking sheet with oil, transfer the dough to it. Cover and place in a warm place for 20 minutes, before rising.
Turn on the oven to preheat to 180 degrees.
Make punctures with your fingers in the coming dough. In a small bowl, mix 1 tablespoon of oil, 1 teaspoon of water, and egg yolk, grease the workpiece with this mixture. Brush the dough with the remaining 1 tablespoon of oil, sprinkle with the remaining salt and rosemary.
Place the baking sheet in a preheated oven and bake the focaccia for about 25 minutes, until golden brown. Cool on a wire rack and cut into portions.
Also Like
Comments for "Focaccia with Rosemary and Salt"