Focaccia "Fragrant"
by Editorial Staff
Here's a recipe for the simplest focaccia. We will only make the dough with a bread machine. It happens that there is no time for cooking, but you want to treat your family with something tasty. So why not take advantage of home appliances?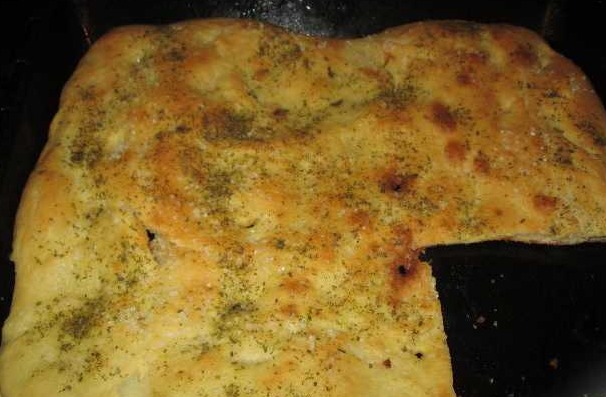 Servings: 6
Ingredients
For the dough:
Water – 300 ml
Olive oil – 3 tbsp
Flour – 250 g
Coarse flour – 250 g
Salt – 2 teaspoon
Sugar – 1 teaspoon
Dry beer yeast – 1 sachet (12-14 gr)
For flavoring:
Olive oil – 2-3 tablespoon.
Coarse sea salt
Dry herb seasoning
Directions
First put water and oil in the container of the bread machine. Then flour, salt, sugar and yeast. We put the bread maker on the dough preparation mode.

Grease the baking sheet with vegetable oil. With our hands we evenly distribute the finished dough over it. We make holes. Lubricate with olive oil. Sprinkle with coarse sea salt.

Sprinkle the dough with a mixture of dry aromatic herbs (rosemary, sage, thyme). Let stand for 30 minutes. Meanwhile, turn on the oven.

We bake focaccia at 200 degrees for 20-25 minutes.
Bon Appetit!
Also Like
Comments for "Focaccia "Fragrant""