Basturma (Spicy, Fragrant, Delicious)
by Editorial Staff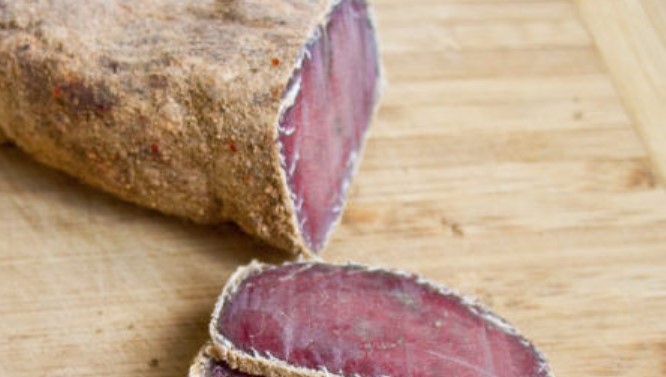 Homemade basturma – spicy, fragrant, delicious. You can keep it in your mouth like candy, swallowing from time to time.
Cook: 17 days
Servings: 8
Ingredients
Beef tenderloin – about 700 g
Coarse salt – about 100 g
Sugar – 2 teaspoon
Chaman (spice necessary for basturma, the Russian name is blue fenugreek) – 5-6 tbsp
Garlic – 4-5 cloves
Hot pepper (chili) – 1 small pod
Bay leaf – 1-2 medium leaves
Coriander (grains) – 0.5 teaspoon
Cloves – 1-2 pcs. (taste)
Juniper berries – 1-2 pcs.
Directions
For basturma, a piece of beef tenderloin was taken – I cut it in half lengthwise since it is difficult to salt large pieces of meat and then stand in spices.
For salting I took coarse sea salt – the larger the better. (Not necessarily sea salt, just coarse salt is needed here, and the easiest way to find sea salt is.) Salt, gradually dissolving in the meat juice, more evenly penetrates inside. I added two teaspoons of granulated sugar to the salt, mixed, rolled the meat on all sides.

and left to stand for half a day at room temperature, covered with gauze from flying insects.
Then he put the baking sheet with meat in the refrigerator. After 12 hours, I turned it over and let it sit in the resulting brine about the same amount.
He pulled it out, washed off the salt with cold water, dried it with napkins, and put it to dry under a stream of air from a fan.
After that, he swaddled the meat tightly in clean gauze, tied it tightly with a rope.
and put it to be pressed under a load of 12 kg. It was pressed like this for a day or so. After he swaddled, checked for dryness – the meat is dense, elastic, but not wet.
In the meantime, I prepared a spicy coating – I mixed Chaman (fenugreek), crushed garlic, ground hot chili, ground bay leaves, several coriander seeds, one clove, and one juniper berry. (The spices can be varied according to personal taste by adding your favorite ingredients.) Poured the mixture into cold water and stirred until sour cream thick. He smeared the future basturma with this mixture, let it dry in the air for 3 hours, and repeated this operation two more times.
The last time I smeared it and hung it up to dry-dry in a draft. So it hung with me for two weeks before I decided to try it.
First I cut one bar of basturma into slices.

Then another … I tried a plate from both pieces. What can I say – not bad: spicy, fragrant, tasty, you can keep it in your mouth like candy, swallowing from time to time.
By the way – when you cut the basturma, take the sharpest knife, because the thinner the plate, the tastier it is.
Also Like
Comments for "Basturma (Spicy, Fragrant, Delicious)"