Basturma
by Editorial Staff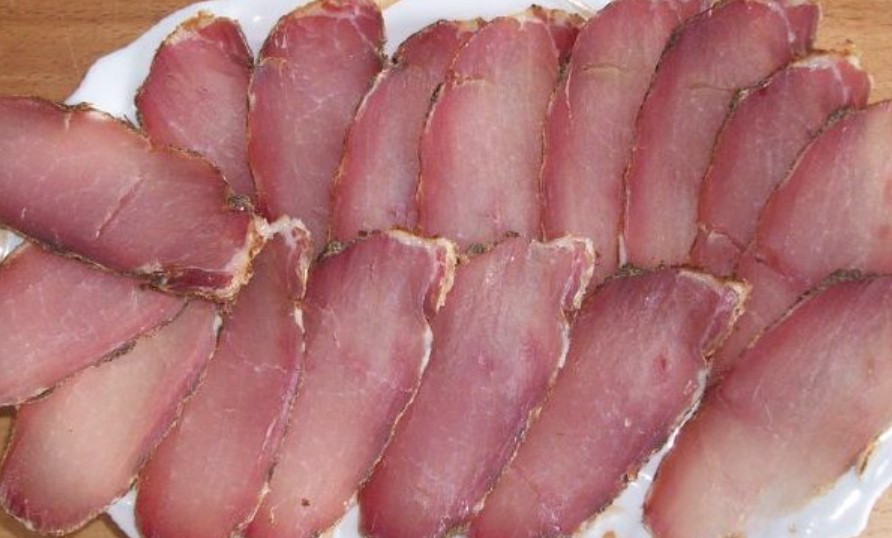 In order not to buy very expensive basturma in the market or on the market, I suggest making homemade basturma yourself at home. Everything is extremely simple, but long … But insanely delicious.
Ingredients
Meat – 1.5 kg
Salt
Spices, preferably fenugreek
Water (or wine or cognac)
How to cook basturma at home:
We buy a piece of meat. I have 1.5 kg of pork half.
We pierce it with a knife and salt it, rubbing salt well into the cuts.
Salt for two days (in a cold place).
We wrap it in a cloth and put it under oppression for 2 days (you can also at room temperature).
On the hook – and let us dry for about a week.
We dilute our favorite spices with water to a creamy gruel, smear the dried meat with them, and put it in a cold place for a week for pickling (instead of water for an aristocratic taste, you can use wine, or splash 50 grams of cognac, as I did).
We take it out of the marinade, evenly cover all uncovered places, wrap it in gauze or other cloth and hang it at room temperature for about a week.
We remove, cut, and enjoy the taste.
I suspect that you can significantly reduce the cooking time of basturma to two weeks: spread the meat with spices and salt, marinate for 4 days in the refrigerator, take it out, hook and dry the basturma for 10 days.
Directions
I made cuts with a knife.

Pickled for a week in your favorite spices.

Fired for 2 weeks.
Cut in half-transparent glass: it means it was a good success.
Cut off a slice – the view is excellent.
Also Like
Comments for "Basturma"