Basturma (Beef Jerky)
by Editorial Staff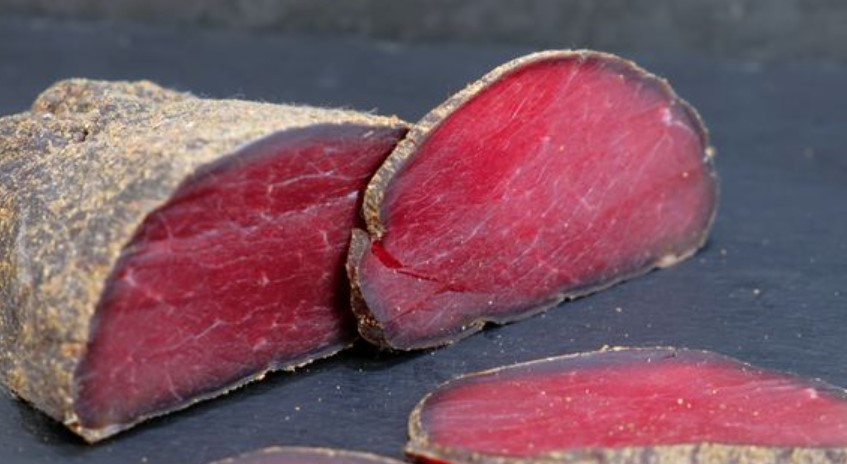 Homemade beef basturma is an excellent meat snack for a festive table instead of sausage. According to this recipe, jerky is not salted, not too hard, and very tasty. I made basturma for the first time, and I really liked it: the meat is soft, aromatic and, most importantly, natural! Dried beef (basturma) is suitable not only instead of sausage on a festive table but also as a snack for beer.
Ingredients
Beef – 1 kg
Salt – 2 tbsp (with a slide)
Dried garlic – 1 teaspoon
Coriander (grains) – 1 teaspoon
Bay leaf – 1 teaspoon
Black peppercorns – 1 teaspoon
How to cook basturma at home:
Directions
Grind the pepper, bay leaves, coriander, and dried garlic in a coffee grinder.
Mix spices with salt.
Wash the meat, dry with paper towels, put in a convenient container, and spread well with a mixture of spices.
Cover the container where the meat will be salted with foil to leave a gap. Salt the meat for 3 days in the refrigerator. After 12 hours, drain all the liquid and turn the meat over to the other side. Turn the meat over to the other side every 12 hours (morning and evening). If liquid appears, drain it each time.

Wrap the meat in 4 layers of clean gauze and wrap with threads.

Hang the meat in a ventilated area and leave it to dry. Periodically check homemade basturma by touch, the meat should not be too hard and dry. The drying process may take 3 to 5 days, depending on the room temperature and humidity.
Store the finished beef jerky in the refrigerator.
Enjoy your meal!
Also Like
Comments for "Basturma (Beef Jerky)"