Gingerbread
by Editorial Staff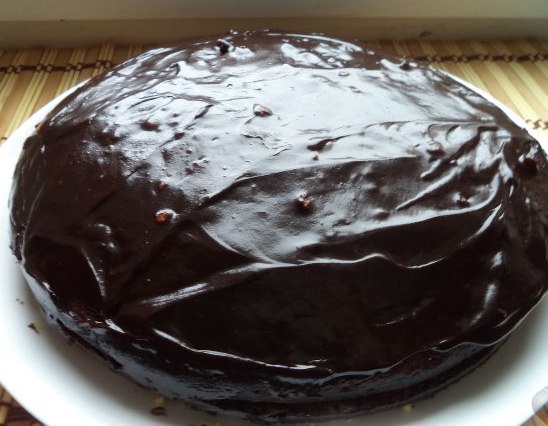 Traditional Russian gingerbread is loved not only in Russia – here is a Romanian recipe for gingerbread with spices. Lenten dessert for a festive day.
Ingredients
For the dough:
Sugar (sand) – 1 glass
Water – 1 glass
Honey – 2 tablespoon
Soda – 1 teaspoon
Cocoa (or coffee) – 2 tablespoon
Flour – 1.5-2 cups (how much it will take)
Carnation – 5 pcs. (taste)
Cinnamon – 0.5 teaspoon (to taste)
Coriander – 0.5 teaspoon (to taste)
Raisins – 0.5 cups
Walnut – 0.5 cups
Vegetable oil – 0.5 cups
Oil (for lubricating the mold) – 2 tablespoon
For glaze:
Powdered sugar – 150 g
Cocoa powder – 2 tablespoon
Water (hot) – 3 tablespoon
Vegetable margarine (soft) – 2 tablespoon
Instructions
Pour sugar into a bowl, pour water and vegetable oil, put honey. Warm-up everything, stirring, over minimal heat until sugar and honey is completely dissolved. Pour soda, cocoa, or coffee, chopped spices into the liquid-cooled to 30-40 ° C and mix thoroughly so that there are no lumps left. Grind the nuts with a rolling pin.
Add chopped nuts, raisins, and flour, as needed, so that the dough resembles good sour cream in density. Mix everything well. Grease the form with butter, sprinkle with flour. Pour the dough into a mold.
Place the dish in the oven on the middle shelf. Bake the gingerbread in a pan greased with butter and dusted with flour until tender at 180 degrees (about 40 minutes). Cool the mat on the wire rack. The cooled gingerbread can be cut lengthwise into two parts. Put the first cake on a flat dish. Then sandwich with jam to taste. Cover with a second cake layer.
The icing is prepared as follows: mix 150 g of icing sugar with 2 tablespoons of cocoa powder, 3 tablespoons of hot water, and 2 tablespoons of soft, room temperature, vegetable margarine.
Cover the gingerbread with a glaze on top.

Have a nice tea!
Also Like
Comments for "Gingerbread"