Ice Cream and Cream Muffins
by Editorial Staff
Banana dough muffin recipe. Such muffins can be a good alternative to a cake for a children's party.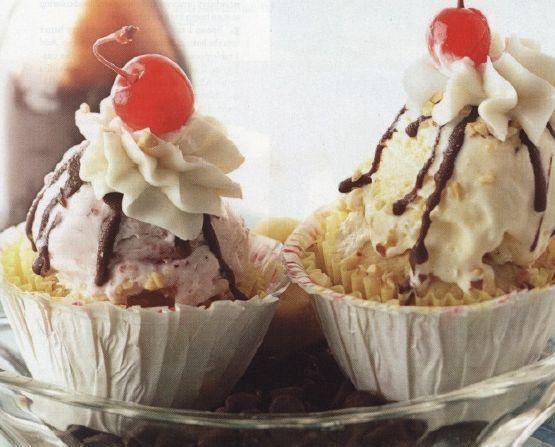 Ingredients
Butter – 3/4 cup
Eggs – 3 pcs.
Flour – 2 cups
Baking powder – 1 1/2 cups
Salt – 3/4 teaspoon.
Soda – 1/4 teaspoon.
Banana (mashed) – 1/2 cup (1 banana)
Milk – 1/3 cup
Sour cream – 1/4 cup
Vanilla sugar – 1 teaspoon
White sugar – 1 glass
Whipping cream, sweet – 1 glass
Ice cream (any taste) – 100 g
Cherries (canned in syrup)
Any nut (ground) (optional)
Chocolate syrup (optional)
Directions
Leave the butter and eggs on the table at room temperature for 30 minutes. In the meantime, cover the 24 muffin molds with paper baskets. In a small bowl, combine flour, baking powder, salt and baking soda. In another small bowl, combine the mashed banana, milk, sour cream and vanilla sugar (you can use the vanilla pods, you need 1/2 pod, but then the vanilla seeds are placed in the wet ingredients).
Turn on the oven to preheat 180 degrees. Meanwhile, in a small bowl, beat the butter with a mixer, on low speed until fluffy, for about 30 seconds. Add sugar gradually, about 1/4 cup at a time, beat on medium speed until smooth. Then add eggs one at a time, beating well after each. Add the flour mixture and the banana mixture to this mixture alternately, whipping the dough at minimum speed.
Put the dough into prepared molds, filling them by 2/3 of the total volume. Smooth the surface of the dough with the back of a spoon.
Bake muffins until clean wooden sticks, for 18-20 minutes. Remove the finished muffins from the oven and put them in the tins to cool on the wire rack, leave for 5 minutes. Then take the muffins out of the molds and put on the wire rack, leave to cool completely.
Beat the cream, put in a cooking bag and squeeze the cooled muffins on top.
Before serving, add one small scoop of ice cream to each muffin, sprinkle the muffins with chocolate syrup and sprinkle with nuts (optional). Squeeze some more whipped cream on top and garnish with cherries.
Also Like
Comments for "Ice Cream and Cream Muffins"