Indian Puri with Chickpea and Tomato Fillings
by Editorial Staff
Some Indian food today. Cooking the famous Indian fried puri with a pocket! The recipe for yeast-free dough with semolina is very simple and very interesting, be sure to try it! The filling will be from chickpeas and tomatoes with onions and herbs. But I will definitely try other fillings, you can hide anything in such cool pockets!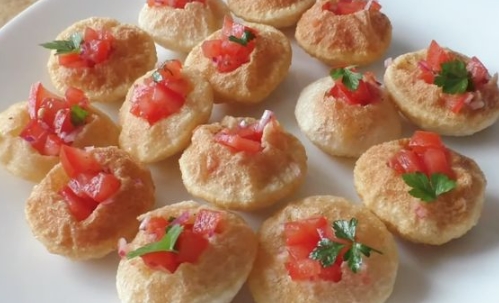 Ingredients
For the dough:
Semolina – 200 g
Flour – 40 g
Salt – 1/2 teaspoon
Hot water (boiling water) – 125 ml
Vegetable oil for frying – 1 glass
For filling:
Boiled chickpeas – 0.5-1 glass
Tomatoes – 2-3 pcs.
Red onion (small) – 1 pc.
Vegetable oil – 1-2 tbsp
Salt to taste
Ground black pepper – to taste
Lemon juice – 1 teaspoon
Greens (parsley, cilantro) – optional
Directions
Let's start with the dough. The products are the simplest, yeast-free dough.

Mix semolina, flour, salt. Then, little by little, add boiling water. Knead the soft dough for 5-7 minutes.
Cover the dough with cling film and let it rest for 20-30 minutes.

Then we divide the dough into 2 parts and roll each part into a thin layer (2-3 mm). At the same time, put a frying pan with vegetable oil on the fire and heat the oil.
Cutting out cakes from the rolled dough (mine are small, 4.5 cm in diameter) by cutting.
Fry Indian tortillas in a pan in portions, in a large amount of heated vegetable oil, until lightly golden brown on both sides. If done correctly, the puri should inflate well when frying.
Place the fried puri on a plate covered with a paper towel.
Now let's get down to stuffing. I prepared the chickpeas in advance: I soaked them and boiled them in salted water.
Making vegetable salsa. Cut the red onion into small cubes. Add lemon juice to it – let the onion marinate.
Remove the seeds from the tomatoes with juice and cut the tomato fillet (fleshy part) into small cubes.
Add tomatoes to onions. Add salt, black pepper, vegetable oil and fresh herbs. We mix.
Make a small hole in the crispy crust of air cakes and put a few chickpeas and a teaspoon of vegetable salsa into the cakes.

These are the fried cakes with the filling we got! The dish is simple, tasty and can be eaten during the fast. I'm very happy!
Enjoy your meal!
Also Like
Comments for "Indian Puri with Chickpea and Tomato Fillings"