Mediterranean Chicken
by Editorial Staff
Chicken in the Mediterranean – this recipe is very loved in our family, it helps a lot when guests unexpectedly arrive. Cooking Mediterranean chicken quickly, but it turns out – super!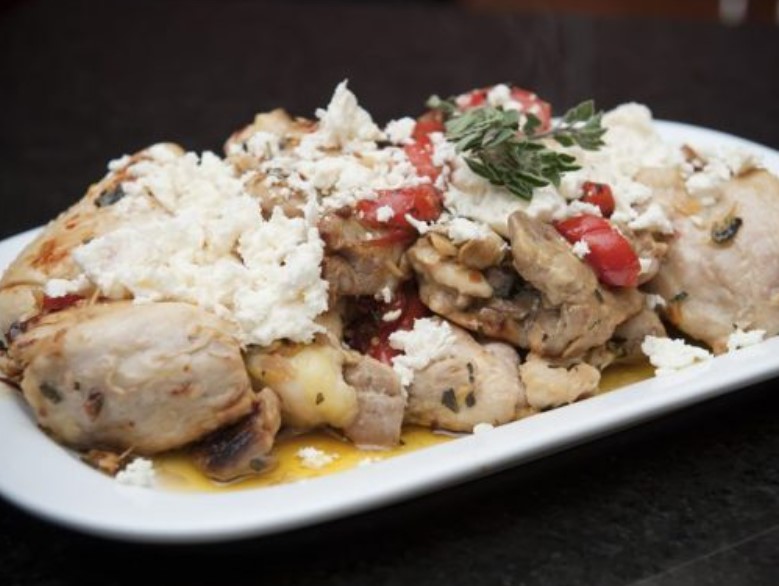 Cook: 50 mins
Servings: 3-4
Ingredients
Chicken fillet – 8 Pieces
Lemon – 2-3 Pieces
Garlic – 4-5 Cloves
Red bell pepper – 1 Piece
Oregano – To taste
Rosemary – To taste
White wine – 100 Milliliters
Ground Red Pepper – 1 Pinch
Olive Oil – To taste
Salt – To taste
Feta cheese – 100 Gram
Directions
We clean the lemon from the zest.
Squeeze lemon juice from the leftovers.
Grind rosemary and oregano (if using fresh).
Chop the garlic and cut the bell pepper into thin strips.
In a saucepan, heat a small amount of olive oil. Simmer the chicken lightly and sprinkle with chopped garlic, red pepper and salt to taste.
Fry fillets on both sides.

Add chopped rosemary, oregano and lemon zest.
After a couple of minutes, add the bell pepper, and simmer all this until the pepper begins to soften and brown.
Add wine, lemon juice and simmer fillet until cooked.
Put the finished fillet on a large dish and crush feta cheese on top.
Bon appetit!
Also Like
Comments for "Mediterranean Chicken"