Meringue Roll with Lemon Custard
by Editorial Staff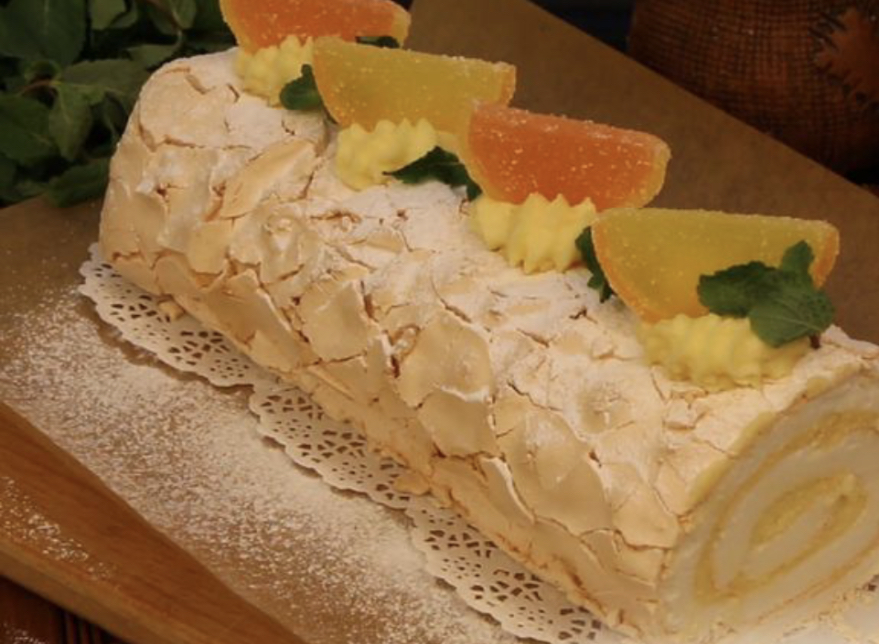 Meringue roll is so tender, with a crispy crust and light, airy, and just weightless inside. Delicate citrus cream perfectly complements the sweetness of the meringue. The recipe will not contain heavy cream and cream cheese.
Ingredients
Charlotte cream:
Milk – 75 ml
Egg – 1 pc.
Sugar – 75 g
Butter – 150 g
Salt – 1 pinch
Vanilla sugar – 1 sachet
Lemon – 1 pc.
For meringue:
Egg whites – 180 g
Powdered sugar – 300 g
Corn starch – 25 g
Salt – 1 pinch
Citric acid – 1 pinch
For decoration:
Powdered sugar – to taste
Citrus marmalade – to taste
Fresh mint – to taste
Directions
First, you need to prepare a cream, because it needs time to cool down.
I remove the zest from a whole lemon with a grater. From the same lemon, I squeeze 2 tbsp of juice.
In a saucepan, I combine an egg, salt, vanillin, and sugar. Stir and add milk. I put it on the stove and cook on a low-medium heat until lightly thickened. It took me about 10 minutes. In this cream, the egg-milk mass will be quite liquid, not the same as for custard. I remove from heat and, while the egg and milk mass is still hot, add lemon zest and juice. I stir it. Cool completely.
And when the egg-milk mass has cooled down, beat the softened butter until fluffy and slightly whitening.
And then in several passes, I connect both masses.
Beat until smooth – and the cream is ready!
Here is such a cream. Stable, uniform, and lush.
I'll leave it aside and do the meringue.
Egg white – at room temperature.
Powdered sugar – sifted.
Corn starch.
Citric acid can be substituted with lemon juice.
I turn on the oven to heat up to 150 degrees.
The bowl and whisk must be clean. It is best to use a bowl of metal or glass. Plastic tends to absorb fat, and this, as you know, is the first enemy of meringue.
Beat the protein with salt at low speed until small bubbles (light foam). There should be no liquid protein remaining at the bottom of the bowl.
Then I gradually add powdered sugar literally on a tablespoon, whisking at medium speed of the mixer. The interval between adding powdered sugar is 15-20 seconds.
After I have introduced all the icing sugar, I add citric acid and beat for another 5 minutes. Meringue after citric acid will noticeably become denser.
Then – starch. Beat for 2-3 minutes – and the meringue is ready.
It should be stable, glossy, dense, uniform, and keep its shape well.
Cover the baking sheet with parchment paper. In the corners, I fix the paper with meringue.
The size of the baking sheet is 28×40 cm.
I spread the meringue on a prepared baking sheet, distribute in an even layer. Thickness – 1.5-2 cm.
But do not get carried away too much, the meringue does not like this.

And I put it in the oven for 25-30 minutes.
But since ovens are different for everyone, we need to get a crispy, slightly browned crust with small cracks and a tender, moist meringue inside. It took me 30 minutes.
While the meringue is still hot, cover it with a second sheet of paper and gently turn it over. The meringue will crumble decently, that's okay.
I remove the bottom layer of parchment paper (on which I baked) and let the meringue cool completely.
And only when the meringue has completely cooled down, I evenly distribute the cream over the surface, leaving a couple of centimeters of free, non-smeared edge on one side, so that when I roll up the roll, the cream does not flow out.
If desired, leave a little cream for decoration.
And with the help of paper, practically without touching the meringue, I gently roll it into a roll.
I wrap the roll in parchment and put it in the refrigerator for at least 2-3 hours so that the cream stabilizes, grabs, the roll is soaked, all the tastes come together and become one.
But my roll in the fridge spent the night. It's just as crispy.
I transfer the roll to the dish.
Sprinkle with powdered sugar or cocoa powder if desired.
Decorate the roll as your soul desires (I used to set aside cream, marmalade, and fresh mint).
You can try!
And here is such a meringue roll with lemon cream in a cut.
Enjoy your meal!
Also Like
Comments for "Meringue Roll with Lemon Custard"