Pumpkin Buns with Sesame Seeds "Pumpkin"
by Editorial Staff
There are many pumpkin recipes, but I want to share one more. For pumpkin lovers, a recipe for butter buns with pumpkin will not be superfluous – fragrant, incredibly airy and mouth-watering. The bun dough is prepared in a bread machine.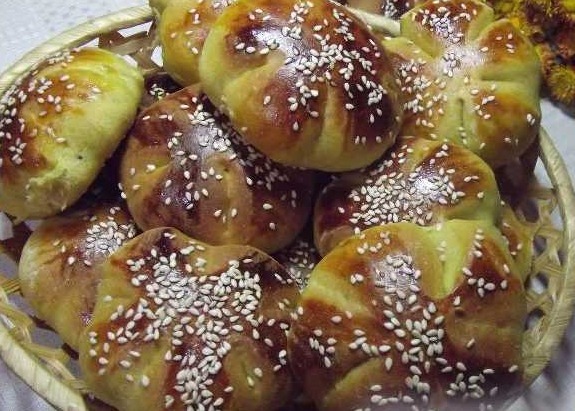 Ingredients
Pumpkin, pulp – 250 g
Flour – 2.5 cups (you may need a little more)
Dry yeast – 1 teaspoon
Butter – 50 g
Sugar – 4 tbsp
Vanilla – 1 pinch
Egg yolk – 1 pc.
Sesame seeds for sprinkling
Directions
First, prepare the pumpkin puree. To do this, peel the vegetable by pouring water, boil until soft and then puree with a blender (you can crush with a fork or skip through a meat grinder). Melt the butter.

Next, proceed to the test. It is not difficult to make it if the farm has a bread maker. Place pumpkin puree and melted butter on the bottom of the bowl.
Add the sifted flour several times beforehand to cover the liquid. Sprinkle sugar, a pinch of vanilla and dry yeast in different corners of the bowl.
Set the "Dough" mode and wait for the end of the program. But while the dough is kneading, look, you may have to add a little flour if the dough turns out to be a little thin. It should come out soft and elastic enough.
When the bread maker has signaled the end of the program, take out the dough, crumple it and cut it into equal pieces. Roll buns out of the pieces. Cut each bun along the edges, making it in the form of small pumpkins. Spread out on a baking sheet with parchment paper.
Brush the buns with yolk and sprinkle with sesame seeds.

After 30-35 minutes, when the pumpkins have risen enough, send the baking sheet to the oven for 20 minutes at a temperature of 180 degrees.
The buns are golden brown and very fragrant!
You can also add raisins, cinnamon, nuts, lemon zest to the bun dough.
Bon Appetit!
Also Like
Comments for "Pumpkin Buns with Sesame Seeds "Pumpkin""