Pumpkin-Spaghetti with Shrimps in Greek
by Editorial Staff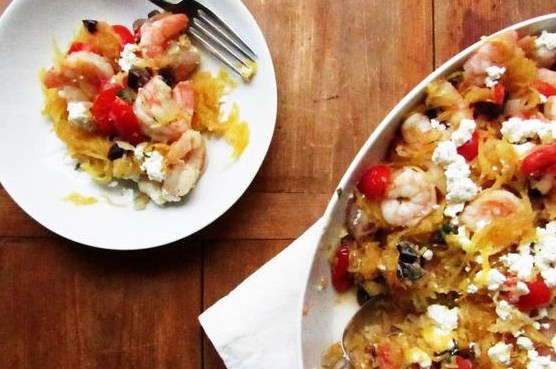 In its raw form, spaghetti pumpkin inside is practically no different from other varieties. The vegetable begins to justify its name after heat treatment. With cooked pumpkin, the flesh breaks down quite easily into individual fibers that really look like spaghetti. One of the best uses for such an unusual product would be to combine it with traditional Greek salted feta cheese, olives, and sweet shrimp meat.
Cook: 1 hour 30 mins
Servings: 6
Ingredients
1 large yellow squash (approx. 1.8 kg)
2 tbsp olive oil
1 teaspoon chopped garlic
450 gr. peeled and washed large shrimp (26-30 shrimp)
1/2 tablespoon. chopped onion
2 tablespoon. diced tomatoes
1/2 tablespoon. roughly chopped olives
2 tbsp chopped oregano leaves
1 tablespoon. crushed feta
Directions
Preheat oven to 200 ° C.
Cut the yellow squash in half and scoop out the seeds with a spoon. Place the halves, cut side down, on a rimmed baking sheet. Bake until the pumpkin shrinks and shrinks slightly (about 50 minutes).
Remove from oven and let cool for 15 minutes. Using a fork, scrape the inside of the pumpkin to create spaghetti-like fibers. Transfer them to a large serving bowl.
Heat the oil over medium heat in a very large deep skillet (you can even use a large cast-iron pot or saucepan). Add garlic and sauté until golden brown (about 30 seconds).
Add shrimp, onion and season with salt and pepper. Saute until the shrimp are pink and almost cooked (about 4 minutes).
Add tomatoes, olives, and oregano. Fry until the mixture is hot and the shrimp is completely cooked (2 more minutes).
Pour the shrimp mixture into a serving bowl and toss in the spaghetti squash. Sprinkle with feta and serve.
Also Like
Comments for "Pumpkin-Spaghetti with Shrimps in Greek"