Quiche with Spinach
by Editorial Staff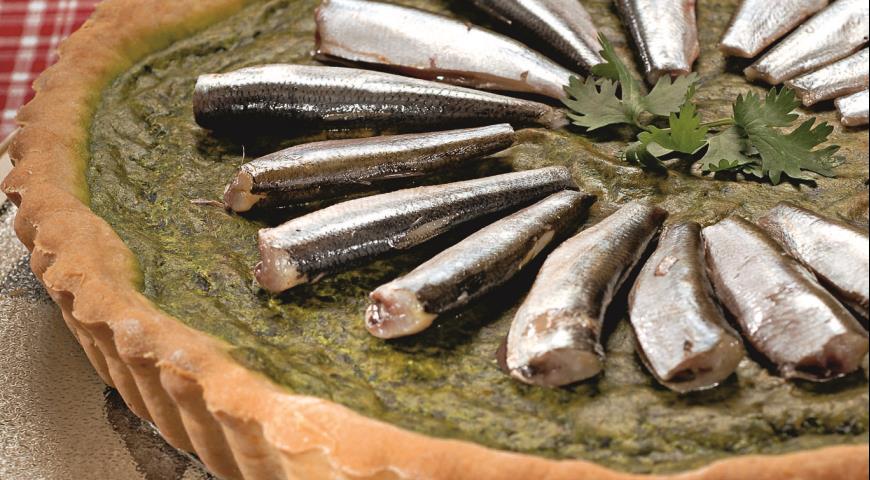 If you have ever cooked a quiche with spinach, then you will be very surprised with our version due to the presence of sprat in the filling. Is this decision justified? We are sure that yes! This fish gives the dish a very interesting taste, which distinguishes such a quiche from a number of similar ones. By the way, there are an incredible variety of fillings for this pie! Quiches are made with mushrooms (forest or champignons), with vegetables (from asparagus to carrots), with meat and chicken, with bacon and salmon. And it would be a thankless task to decide which option is the best. Try our recipe for spinach quiche and it will probably be on the list of your favorite family meals!
Cook: 2 hours 30 minutes
Servings: 8
Ingredients
For filling:
spinach – 400 g
salted sprat – 100 g
butter – 30 g
olive oil – 1 tbsp
salted sprat – 100 g
thick sour cream – 200 g
egg – 1 pcs.
yolks – 2 pcs.
ground black pepper – to taste
For the test:
butter – 90 g
flour – 160 g + a little more for kneading the dough
salt – on the tip of a knife
olive oil – 1 tbsp
drinking water – 2 tbsp
Directions
Make a spinach quiche dough. Cut the cold butter into small cubes. Sift the flour with salt into the bowl of the food processor through a fine sieve.
Add chopped butter to the flour mixture. Stir in a food processor until the mixture looks like large crumbs. Pour in olive oil and drinking water. Knead the quiche dough.
Transfer the dough to a floured work table. Knead for 2-3 minutes. Form the dough into a ball, wrap in plastic wrap and refrigerate for 1 hour.
Heat the oven to 190 ° C. Roll out the quiche dough into a thin round layer and place in a mold with a diameter of 24-26 cm, forming high sides. Place with a fork and cover with a sheet of baking paper. Sprinkle in any dried legumes and bake for about 15 minutes.
While the quiche base is baking, prepare the filling. Sort the spinach and remove the coarse stems. Wash and dry. Heat butter and olive oil in a skillet. Add spinach and cook for 2 minutes. Let cool.
Cut the sprat into fillets. Mix half with spinach and whisk in a blender with sour cream, egg, and yolks until smooth. Pepper to taste.
Remove the paper and legumes from the base of the quiche. Pour the filling over the baked crust and place in the oven for 20 minutes. Then take out the quiche and place the remaining sprat on top. Bake for another 5 minutes.
Also Like
Comments for "Quiche with Spinach"