Ravioli with Spinach and Ricotta
by Editorial Staff
The whole family loves ravioli very much, and we try different fillings for them. Ravioli with spinach and ricotta were our favorites. I share the recipe.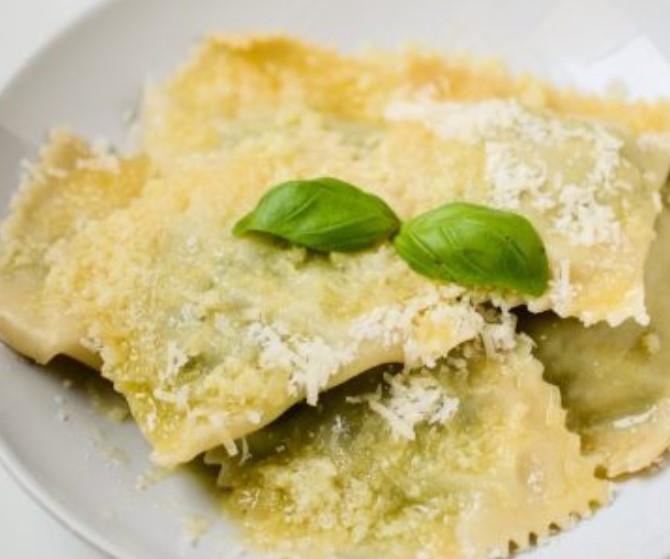 Cook: 30 mins
Servings: 3-4
Ingredients
Spinach – 200 Grams
Ricotta Cheese – 200 Grams
Onion – 1 Piece
Salt – To taste
Flour – 2 Glasses
Egg yolk – 1 Piece
Warm water – 100 Milliliters
Butter – 100 Grams
Garlic – 1-2 Cloves
Olive Oil – To taste
Directions
Fry the spinach in olive oil. Cook for 10 minutes, stirring occasionally.
Then, combine the fried spinach with the ricotta cheese.
Place finely chopped onion in the remaining olive oil in a skillet. Fry it until transparent, it will take about 5 minutes. And add to the spinach and cheese.
Knead the dough. Combine egg yolk, flour and warm water.
Divide the dough in half. While we are working with one half of the dough, put the other in a plastic bag or wrap it in plastic wrap. It is important. Otherwise, the dough will dry out quickly and it will be difficult to work with it.
Roll out the working half of the dough into a long, large strip. Then cut it lengthwise into several thin strips.

Spread the spinach and ricotta cheese mixture in small heaps (one teaspoon each), evenly spaced apart, but not too close. And cover with an empty strip.
Using your fingers, gently crush the dough between the filling.
Cut the border between the ravioli so you can separate them from each other. Use a raised knife.
Place the spinach and ricotta ravioli in nearly boiling water. Cook for literally five minutes.
Now let's make a light ravioli sauce. In a small saucepan, melt the butter and squeeze the garlic into it. Mix everything. You can serve the spinach and ricotta ravioli topped with this sauce. You can also sprinkle the ravioli with your favorite hard cheese.
Bon Appetit!
Also Like
Comments for "Ravioli with Spinach and Ricotta"