Lasagne with Spinach and Ricotta
by Editorial Staff
Lasagna is a delicious and hearty Italian dish. There are a colossal number of its varieties. My family especially loves two options – meat and cheese. Today we will cook it not only with cheese, but also add some healthy greens in the form of spinach.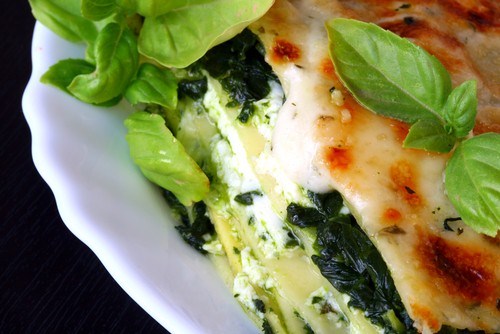 For spinach and ricotta lasagna, prepare the food listed.
Cooking: 1 hour
Servings: 5
Ingredients
Ready dry lasagna sheets 250 g
Spinach 600 g
Pine nuts 50 g
Ricotta cheese 225 g
Gorgonzola cheese 200 g
Mozzarella cheese 200 g
Grated Parmesan cheese 60 tablespoons
Bechamel sauce100 ml
Butter 1 teaspoon
Salt to taste
Ground black pepper to taste
Instructions
Prepare the béchamel sauce: melt 2 tablespoons in a saucepan. butter, add 2 tbsp flour and stir so that there are no lumps. Remove from the stove and after 1 min. add 1/2 liter of milk. Put on the stove again and cook for 10 minutes, stirring constantly. Season with salt and add grated nutmeg.
Lightly fry the pine nuts in a skillet without oil.
Rinse the spinach well, discard it in a colander. Melt the butter in a frying pan, add a little water, add the spinach and simmer for a few minutes, stirring occasionally.
Grind the spinach in a food processor, add ricotta, 100 ml of béchamel sauce, 20 g of grated Parmesan, mix until smooth. Break the gorgonzola into small pieces, mix with spinach. Add salt and pepper to taste.
Pour 3 liters of salted water into a saucepan, bring to a boil. Boil the lasagna sheets in turn for 3 minutes, then remove with a slotted spoon and spread on a towel. Preheat the oven to 180 ° C.
Put 1/4 of the béchamel sauce, 1/3 of the spinach filling in a fireproof dish, sprinkle with pine nuts. Then put a layer of lasagna sheets. Repeat again, but after the pine nuts add 1/3 of the finely chopped mozzarella. Repeat one more time, finishing with lasagna sheets, remaining sauce, parmesan, and mozzarella.
Bake the lasagne for 30 minutes. Serve hot.
Also Like
Comments for "Lasagne with Spinach and Ricotta"